Don't Miss Out On This Thirty Dollar Bonus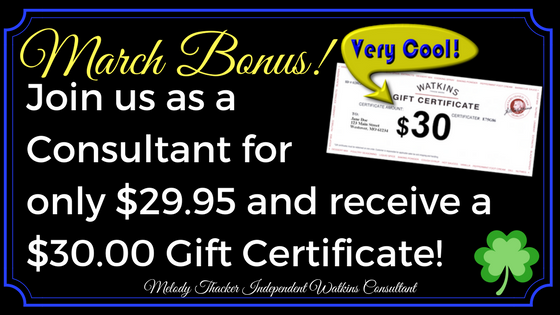 Don't miss out on this thirty dollar bonus from Watkins!
March 2017 bonus, receive a $30.00 Watkins products gift certificate when you join us as a consultant. Your J.R. Watkins Consultant membership carries a full 30-day money back guarantee so it's risk-free. Who doesn't like free products? This is great for anyone who wishes to maximize your value or build a serious business. 
How do you get this bonus? Follow these simple directions to join us and Watkins will automatically mail you a gift certificate within a few weeks.
Go to my Consultant website: www.jrwatkins.com/consultant/thacker Click "Sign In/Create Account", (top right side of the page) then choose Join Watkins as a Consultant.(Canadian friends, be sure to click the Canadian flag first, then "Sign In/Create Account".)
Don't miss out on this wonderful bonus!
No Comments Yet.