Homemade Pumpkin Spice Latte

Are you a pumpkin spice latte fan? Did you know it's easy to make this popular fall coffee beverage at home! It's more economical to make it yourself and you get to control the ingredients too. You can make your pumpkin spice latte with regular coffee brewed stronger than usual or if you can use an espresso machine and frothy steamed milk.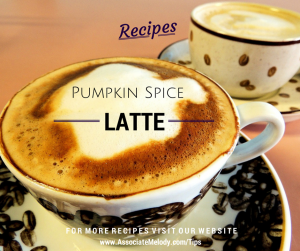 Here's the pumpkin spice latte recipe for you:
Homemade Pumpkin Spice Latte
Ingredients
1 1/2 cups/360 ml milk
1 1/2 teaspoon/7.5 ml Watkins Pumpkin Spice Extract
2 teaspoons/5 ml Watkins Pure Vanilla Extract
2 teaspoons/5 ml sugar or 1 teaspoon/2.5 ml honey
1/4 cup/60 mL of espresso or 1/2 cup/120 ml strong brewed coffee
2 tablespoon/30 ml canned or cooked pureed pumpkin (optional)
Watkins Pumpkin Spice or cinnamon
Directions
Whisk together in a small heavy bottom sauce pan milk, pumpkin puree, sugar, pumpkin spice extract and vanilla, heat gently on medium heat, keep whisking until hot but not boiling.
Remove from heat, carefully whiz in blender to froth if desired. If you have an espresso machine you may use the frother.
Pour the hot espresso or coffee into a mug and top with the hot frothy milk mixture Garnish with a sprinkle of pumpkin pie spice or cinnamon on top if desired.
http://www.associatemelody.com/tips/homemade-pumpkin-spice-latte/
Copyright © Melody Thacker - All Rights Reserved
Adding the pumpkin puree is optional, as is the sugar or honey. I love adding extracts to my coffee grounds before brewing or adding them to the steamed milk for lattes, my favorites are vanilla and hazelnut! You can learn more about making your own gourmet favored coffee, even on a budget here.
What's your favorite flavored coffee? Please do share in the comments below, we'd love it if you do!