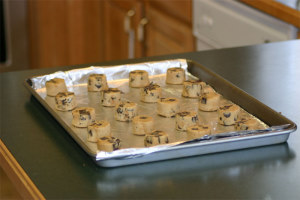 Baking can be both an art and a science but with a few basic tips you can be baking up home made goodies from scratch with ease. By following the baking tips below you'll learn how to bake like a pro the very first time you try.  Unlike cooking, baking can be a challenge if the recipe isn't followed exactly or the measurement of ingredients is not accurate.
Here are some basic baking tips to assist you in your home baking adventures.
Tips for getting the best results from your oven:
Always preheat your oven before baking so that you can ensure the correct baking time and even cooking.
When baking most items, place the oven rack in the middle position.
Bake pies, tarts, and quiches in the lower third of the oven. The bottom crust will be crisp and the rim or top crust won't over-brown.
When baking more than one pan at a time, make sure there's plenty of room between the pans, walls and racks of the oven so air circulates.
Uneven temperature in your oven? Most ovens have hot or cool spots. Rotate your cookies sheets and other baking pans part way through to ensure your goodies are baked evenly.
Is it done? Tips to help you determine when you baking is ready to come out to the oven:
You can tell if a cake or loaf is done if you stick a toothpick in the middle and it comes out clean.
Don't have a toothpick? Use a strand of spaghetti or similar pasta to test your cake.
You can tell if muffins and soft style, drop cookies are done by lightly pressing them. If they spring back, they're done.
Check cookies at the minimum baking time. Cookies are done as soon as they start browning around the edges.
Time saving baking tips:
Do you bake a certain recipe often? Double the batch, allow to cool completely, place in airtight containers and freeze.
Cookie dough can be frozen and baked later for fresh from the oven cookies. Freeze the dough in a roll or freeze ready to bake individual cookies.
Baking for lunch bag snacks? Pre-portion cookies, muffins and more, so they're ready to go when it's time to add them to a lunch.
Trying to save time by using cake and other baking mixes? Make them special by adding your own special touch like fresh blueberries, nuts or other favorite ingredient.
Line your baking pan with parchment paper or foil to speed clean up.
Measuring tips to ensure good results with your baking:
Measure dry ingredients such as flour and sugar in dry measuring cups. Measure small qualities of dry ingredients like spices, baking powder and baking soda with measuring spoons.  Fill the cup or spoon and scrape a knife over the top to level the ingredients and remove extra.
When measuring wet ingredients like oil or milk, always place the measuring cup on the counter to ensure a level surface. Bend down and read the amount at eye level for the most accuracy.
When a recipe doesn't specify egg size, you can assume you should use large eggs.
Use an ice cream scoop to measure and pour your muffin batter into muffin pans. You'll get just the right amount, equal sized muffins and fewer drips.
Brown sugar is measured "packed". That means you should press it firmly into your dry measuring cup to ensure you have the right amount.
Measuring honey, molasses or another sticky ingredient? Spray the measuring cup with Watkins cooking spray first and the ingredients will slide right out.
To easily cut up sticky foods like dried prunes, fresh dates, marshmallows, candied fruits, etc., use kitchen shears dipped periodically in hot water.
General baking tips:
Read a recipe the whole way through before starting. This will help you prevent mistakes along the way.
When working on a recipe, measure and prepare all your ingredients first. It makes it easier to follow the recipe and clean up.
When your recipe calls for creaming or beating butter, plan ahead and make sure your butter is at room temperature.
To separate an egg, you don't need any special tools. Just crack the egg and pass the yolk back and forth between halves, letting the white drip down into a bowl.
Store brown sugar in an airtight container to keep it from hardening.
To keep the layers from slipping while you ice the sides of a layer cake, push three long sticks of dry spaghetti down through all the layers of the cake. Frost the sides and top and pull the spaghetti out once the icing has set.
When rolling dough between waxed or parchment paper, dampen the counter top first, to keep the paper from slipping.
To cool a cake that has just come out of the oven, place the pan on a wet towel. The cake is less likely to stick to the pan if it's cooled this way.
Remove cookies from cookie sheets before they completely cool, otherwise they will stick to the pan.
If cookies have stuck to the pan and refuse to budge, return them to the hot oven for a few minutes to loosen.
A thin coat of Watkins Cooking Spray on cookie cutters will prevent dough from sticking to the metal.
If you want chewy cookies, use melted butter. If you like them more cake-like, use more eggs
Did you find these tips helpful? Be sweetie and share them with your friends.
Do you have your own tips? Please feel free to share your baking tips in either of the comment forms below. We'd love it if you do!