Watkins Biscotti Recipes
Do you enjoy a nice biscotti dunked in your coffee, tea or hot chocolate? If you haven't tried making homemade biscotti yet, you'll be happy to know these italian cookies are really simple to make! Try the spiced Chrismas ginger biscotti, anise biscotti or a more traditional almond biscotti recipe.
Biscotti means twice baked and you'll find these cookies keep well for months if stored in a biscotti jar or an air tight container.
Watkins Spiced Christmas Biscotti
Move over ginger bread man, make room on the plate for these spicy holiday cookies laced with ginger, cinnamon, nutmeg and cloves.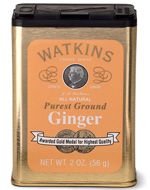 1/3 cup Watkins orginal grapeseed oil
2 1/4 cups all-purpose flour
1 cup whole wheat flour
1 cup white sugar
3 large eggs
1/4 cup molasses
1 tbsp Watkins baking powder
1 1/2 tbsp Watkins ground ginger
1 tbsp Watkins cinnamon
1 tsp Watkins ground cloves
1/4 tsp Watkins ground nutmeg
Directions: Preheat oven to 375 degrees F and lightly grease a cookie sheet. In a large mixing bowl, combine eggs, molasses, sugar and oil. In a separate bowl, add the rest of the dry ingredients and combine, then mix into the egg mixture until the dough has a stiff consistency.

Divide the dough into two halves and roll each half into a roll the length of the biscotti. Place the two rolls onto the cookie sheets and pat down to 1/2 inch thickness. Place into the oven and bake for about 25 minutes, then set aside to cool enough to touch.

When the rolls have cooled, cut them into 1/2 inch thick diagonal slices. Then place the biscotti back onto the cookie sheet cut side down and bake for another 5 to 7 minutes on each side, until they are nice and crispy.
Watkins Almond Biscotti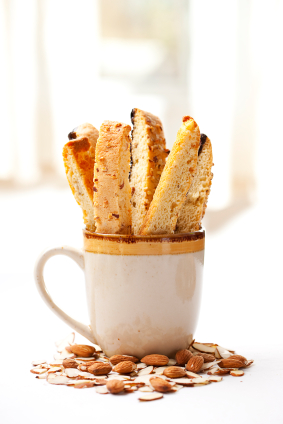 This is the first biscotti recipe I ever made, we liked them so much these cookies have become a Christmas tradition in our family.
3 cups/750 mL all-purpose flour
2 tsp/10 mL Watkins Baking Powder
1/2 tsp/2.5 mL salt
4 eggs, slightly beaten
1 cup/250 mL sugar
1/2 cup/125 mL butter, melted
2 tsp/10 mL Watkins Original Double-Strength Vanilla
1-1/2 tsp/7.5 mL Watkins Almond Extract
3/4 cup/180 mL finely chopped blanched almonds
Directions: Combine first three ingredients, set aside. Beat together the eggs, sugar, and melted butter; add extracts. Add flour mixture, one third at a time; mixing thoroughly after each addition. Fold in almonds.

Spread 1/2 of dough onto cookie sheet to form a loaf 12 inches/30 cm long, 3 inches/8 cm wide, and 1-1/2 inches/4 cm high. Repeat with remaining dough. Bake at 350?F/180?C for 20 minutes or just until starting to brown around edges; cool 10 minutes.

Remove loaves from cookie sheet and place on cutting board. Cut across loaf into slices 1/2 inch/15 mm thick. Lay cookies cut side down on cookie sheet and return to oven for 12 minutes. Turn cookies over and bake an additional 5 to 10 minutes or until dry and crisp.

Makes 48 cookies, 1 per serving. Nutritional Information Per Serving: Calories 80, Protein 2 g, Carbohydrates 11 g, Sodium 60 mg, Fat 3 g, Saturated Fat 1 g, Cholesterol 23 mg, Dietary Fiber 0 g
Watkins Almond Biscotti with Fruit or Chocolate Chips
For cherry almond biscotti stir in 3/4 cup dried cherries with the chopped almonds. Substitute chopped, dried apricots, craisins, raisins or other dried fruit of your choice. Or add 1 cup mini chocolate chips with the almonds. Yum!
Watkins Anise Biscotti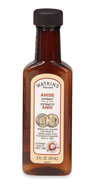 1 cup sugar
1/2 cup butter or margarine, softened
2 teaspoons Watkins Anise Extract
2 teaspoons grated lemon peel
2 eggs
3 1/2 cups all-purpose flour
1 teaspoon Watkins baking powder
1/2 teaspoon salt
Directions: Preheat oven to 350?F. Beat sugar, butter, anise extract, lemon peel and eggs in large bowl with electric mixer on medium speed. Stir in remaining ingredients. Divide dough in half. Shape each half into rectangle, 10 by 3 inches, on an ungreased cookie sheet.

Bake about 20 minutes or until toothpick inserted in center comes out clean. Cool on cookie sheet 15 minutes. Cut crosswise into 1/2-inch slices. Turn slices cut sides down on cookie sheet. Bake about 15 minutes or until crisp and light brown. Remove from cookie sheet to wire rack.

Shop for the your extracts, spices and more in the WatkinsOnline USA Store or the WatkinsOnline Canadian Store


With Watkins your satisfaction is always guaranteed or your money back!
If you enjoyed these recipes please bookmark or add this site to your favorites or share it with your friends