Watkins Cinnamon Recipes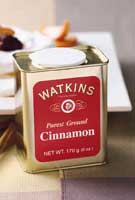 Here is a small sampling of cinnamon recipes for you to enjoy. Bake up some cinnamon goodness in cookies, rolls, apple pie or loaf. Serve delicious entrees spiced with cinnamon and spiced almonds make a nice appetizer or snack. Order your cinnamon in the US store or the Canadian store.
Cinnamon Butter Cookies
Ingredients:
1 cup butter
1 cup sugar
3 eggs, beaten
2 teaspoons Watkins cinnamon
1/4 teaspoon Watkins nutmeg
3 1/2 cups unbleached all-purpose flour
1 teaspoon Watkins Vanilla extract

Instructions: In a large bowl beat the butter and sugar together. When light and fluffy add the beaten eggs and beat until well blended. Stir in 1 teaspoon of the cinnamon, all the nutmeg, flour and vanilla extract. Stir until mixed through. Shape into a log shape and wrap with cling film. Place in refrigerator for approximately 4 hours until chilled.
Preheat oven to 350F and grease two cookie sheets. Unwrap the dough and place on a lightly floured surface. Cut into 1/2 inch slices and place an inch apart on cookie sheets. Bake approximately 8 to 10 minutes or until golden and baked through. Mix the remaining teaspoon of cinnamon and a little sugar and sprinkle over the cookies as soon as they come out of the oven. Transfer to wire racks to cool completely.
Cinnamon Apple Loaf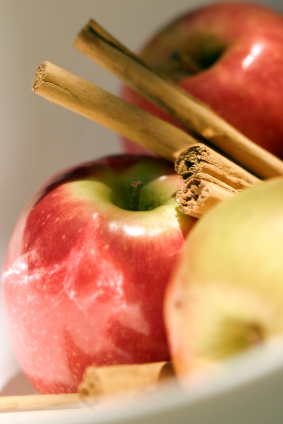 Apples and cinnamon always go great together wouldn't you agree?
Ingredients:
2 1/2 cups flour
1 teaspoon baking soda
1/4 teaspoon salt
1 teaspoon Watkins cinnamon
1 cup sugar
1/2 cup butter (melted)
1 egg (beaten)
1/2 cup milk
1 teaspoon Watkins vanilla
1 cup peeled, chopped apples
1/2 cup raisins
1/2 cup chopped pecans (optional)
Directions: Preheat oven to 350F. In a large bowl combine flour, baking soda, salt, sugar and cinnamon. Add melted butter, egg, milk and vanilla. Mix well. Fold in chopped apples, raisins and pecans. Pour batter into a lightly greased loaf pan. Top with chopped pecans. Bake at 350F for approximately 45 minutes or until center is baked through. Cool for 10 minutes in pan before removing to wire rack to cool completely.
Country Apple Pie
Ingredients:
Pastry for 2-crust 9-inch/23-cm pie
2/3 to 3/4 cup/160 to 180 mL sugar, depending on tartness of apples
2 tbsp/30 mL all-purpose flour
1 tbsp/20 mL Watkins Cinnamon
1 tsp/5 mL Watkins Original Double Strength Vanilla Extract
7 cups/1.75 liters thinly sliced, peeled and cored apples
1 tbsp/15 mL butter
1 egg yolk
1-1/2 tsp/7.5 mL sugar
Pinch of Watkins Cinnamon
Directions: Prepare and roll out pastry. Place one crust in 9-inch/23-cm pie plate; set aside. In small bowl, combine sugar and next three ingredients; mix well. Place half of apples in pie crust; sprinkle with half of sugar mixture. Top with rest of apples and sugar mixture. Dot filling with butter. Cut out apple or leaf designs in remaining crust and place over pie. Trim and flute edges. Brush top crust with egg yolk and sprinkle with combination of remaining sugar and cinnamon. Bake at 400¼F/205¼C for 40 to 50 minutes or until crust is golden and apples are tender and juicy. Cover top and edges with foil if pie starts to become too brown. Makes 8 servings.
Quick And Easy Cinnamon Rolls
Ingredients:
1 loaf frozen bread dough, thawed
4 tablespoons melted butter
2/3 cups brown sugar
1/2 cup chopped walnuts or pecans
1 teaspoon Watkins ground cinnamon
1/3 cup heavy cream
Glaze:
2/3 cup sifted powdered sugar
1 tablespoon milk
1/2 teaspoon Watkins vanilla extract
Directions: Roll dough into a rectangle shape and brush with the melted butter. In a large bowl, combine sugar, cinnamon and chopped nuts then layer over dough. Then starting with the long end, roll the dough up into a log. Moisten edges with a little water to seal. Then cut roll into 1 inch slices. Place rolls into lightly buttered cake pans and set aside at room temperature. Allow to rise for approximately 1 1/2 hours or until dough has doubled in size. Finally pour the heavy cream over rolls and bake at 350F for approximately 25 to 30 minutes.
Place rolls on wire rack to cool. Combine sugar, milk and vanilla and drizzle over rolls.
Homemade Cinnamon Rolls

These rolls are well worth the effort and nothing tastes better than homemade! This recipe has cinnamon in the dough as well as the filling.
Ingredients:
4-1/4 to 4-3/4 cups/1 to 1.25 liters all-purpose flour
1 package quick-rising active dry yeast
1-1/4 cups/325 mL milk
1 tsp/5 mL Watkins Original Double Strength Vanilla Extract
1/4 cup/60 mL sugar
1/4 cup/60 mL butter
1 tsp/5 mL salt
1 tsp/5 mL Watkins Cinnamon
2 eggs
6 tbsp/90 mL butter, softened
1/2 cup/125 mL brown sugar
4 tsp/20 mL Watkins Cinnamon
1 cup/250 mL powdered sugar
1 tsp/5 mL Watkins Original Double Strength Vanilla Extract
4 to 5 tsp/20 to 25 mL milk
Directions: Combine 1-1/2 cups/375 mL of the flour and yeast in large mixing bowl. Heat the 1-1/4 cups/325 mL milk, vanilla, sugar, butter, salt, and cinnamon just until mixture is warm (120-130 deg.F/50-55 deg C), stirring constantly. Add to flour mixture along with eggs. Beat with an electric mixer on low speed for 30 seconds; scraping sides of bowl constantly. Beat on high speed for 3 minutes. Using a spoon, stir in as much of the remaining flour as you can (dough will be soft). Knead in enough of the remaining flour to make a moderately soft dough (3 to 5 minutes total). Shape dough into a ball; place in a lightly greased bowl, turning once. Cover and let rise in a warm place until double in size (about 1 to 1-1/2 hours). (The dough is ready for shaping when you can lightly press two fingers 1/2-inch/1-cm into dough and an indentation remains.) Punch down dough and divide in half. Place each half on lightly floured surface and smooth into a ball. Cover and let rest 10 minutes.
On lightly floured surface, roll half the dough into a 12 x 8-inch/30 x 20-cm rectangle. Spread with 3 tbsp/45 mL of the butter. Combine brown sugar and cinnamon; sprinkle half over rectangle. Roll up from short side. Seal edges (brushing with water makes rolls easier to seal). Repeat with remaining dough. Slice one roll into 8 pieces and the other roll into 7 pieces. Arrange slices, evenly, cut-side up, in greased 13 x 9-inch/33 x 23-cm baking dish. Cover and let rise until nearly doubled (about 30 minutes). Bake at 350 deg F/180 deg C for 25 to 40 minutes or until light brown. Invert at once onto wire rack, invert again. Cool slightly. Drizzle rolls with a glaze made by combining the powdered sugar, vanilla, and milk. Serve rolls warm or store in an air-tight container. Makes 15 rolls.
Southeast Asian Pork Stew
This stew smells wonderful and tastes just a good. I usually add some carrots to round out the dish.
Ingredients:
2 pounds/900 g pork butt or loin, cut into 1-inch/25-mm cubes
Watkins Garlic Peppercorn Blend to taste
2 tbsp/30 mL Watkins Citrus Cilantro Grapeseed Oil
2 yellow onions, diced
2 tbsp/30 mL Watkins Ginger-Garlic Liquid Spice
2 tbsp/30 mL Watkins Hot Honey Soy Sauce
2 tbsp/30 mL Watkins Curry Powder
2 tbsp/30 mL Watkins Saigon Cinnamon
2 tbsp/30 mL brown sugar
3 tbsp/45 mL Watkins Chicken Soup Base
4 cups/1 liter water
4 cups/1 liter hot cooked rice
Season pork with freshly-ground pepper blend, saute in grapeseed oil until browned. Add onions and Liquid Spice; saute until onion is soft. Add remaining ingredients except rice; simmer 1-1/2 hours.
To serve, place a scoop of rice in a bowl; ladle stew over rice. Makes 8 servings.
Cinnamon-Scented Grilled Chicken Breasts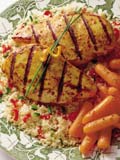 Ingredients:
2-1/2 to 3 tbsp/40 to 45 mL fresh lemon juice
1/2 tsp/2.5 mL Watkins Garlic Flakes
1/2 tsp/2.5 mL Watkins Curry Powder
1/4 tsp/1.2 mL Watkins Cinnamon
1/8 tsp/0.6 mL Watkins Black Pepper
Freshly ground, to taste Watkins Sea Salt
4 skinless, boneless chicken breast halves
Directions: Combine lemon juice with all ingredients except chicken; mix well. Add chicken and turn to coat all sides. Allow to marinate at room temperature for 15 minutes. Grill or broil chicken 5 minutes per side, or until cooked through. Makes 4 servings.
Spiced Almonds
You won't be able to stop nibbling this tasty almonds!

Ingredients:
2 cups/500 mL whole almonds
1 cup/250 mL sugar
1/4 cup/60 mL butter or margarine
1-1/2 tsp/7.5 mL Watkins Pumpkin Pie Spice
1/2 tsp/2.5 mL Watkins Cinnamon
1/2 tsp/2.5 mL Watkins Allspice
1/2 tsp/2.5 mL Watkins Ginger
1/2 tsp/2.5 ml, if desired, freshly-ground Watkins Sea Salt

Directions: Combine all ingredients in a heavy skillet. Cook over medium heat, stirring constantly, until sugar is melted and golden brown, coating almonds (about 15 minutes). Spread nuts in thin layer on foil; cool. Break into clusters containing 2 or 3 nuts.

Shop for your Watkins cinnamon in the US store the Canadian store., or request your free Watkins full product catalog.


Note: Your customer account # and State/Province is optional, entering them will simply enable us to provide you with better service. We care and respect your privacy.