Watkins Gourmet Soup And Gravy Mixes!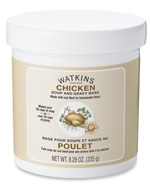 Enjoy homemade gourmet taste with out the work. You'll find Watkins soup and gravy bases are your pantry essentials for delicious home cooking! We won't tell your secret for creating delicious stocks, gravies and sauces. The real beef, real chicken, cheese, mushrooms and other wholesome ingredients give you homemade flavor without expensive canned soups and overly-salty bouillon cubes. Enjoy a quick cup of soup or create quick, flavorful entrées and side dishes by adding items from your fridge and pantry. New, improved packaging for more freshness in a handy, reusable plastic jar.
Try one or try them all, you'll love the ease and convenience of Watkins soup and gravy mixes. Watkins beef or chicken soup and gravy base is economical too, each container makes up to 50 servings per jar!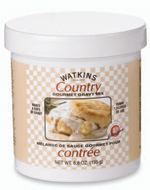 Beef Soup and Gravy base
Chicken Soup and Gravy base
Onion Soup and Gravy base - for french onion soup and more
Roasted Turkey Gourmet Gravy Mix
Country Gourmet Gravy Mix
Gourmet Gravy In An Instant!
Mmmm, homemade gravy over hot flakey biscuits. Enjoy Watkins Country Gourmet Gravy's rich flavor with any meal; simply add water to this convenient mix, simmer and serve. It will turn your biscuits and mashed potatoes into a gourmet delight!
There's nothing that compares to roasted turkey gravy over mashed potatoes. Inspired by Grandma Watkins' original recipe, Watkins Roasted Turkey Gravy Mix makes it simple for you to enjoy this comforting favorite everyday; just add water, simmer and taste. You and your family will savor the rich, made-from-scratch flavor…just like being in Grandma's kitchen!
I made a roast pork awhile back and instead of making gravy with the pork drippings which are always quite fatty, I made up a batch of turkey gravy, and it went really great with the roast pork! I often cook a quick chicken stew with left over cooked chicken and vegetables. I always use the turkey gravy mix because the results are very tasty! Watkins Roasted Turkey Gourmet Gravy is very versatile, tastes great with more than just turkey and it's easy to whip up in a few minutes any time you want gravy.
Watkins Savory Beef-Mushroom Gravy
Here is an easy and delicious gravy recipe using two of our most popular soup and gravy bases.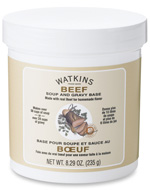 \Ingredients
3 tbsp/45 mL pan drippings or Watkins grapeseed oil
1-1/2 tbsp/25 mL all-purpose flour
1/4 cup/60 mL Watkins Mushroom Soup and Gravy base
2 tbsp/30 mL Watkins Beef Soup and Gravy base
1-3/4 cups/375 mL water
1/8 to 1/4 tsp/0.6 to 1.2 ml, to taste Watkins Tarragon
1/8 to 1/4 tsp/0.6 to 1.2 ml, to taste Watkins Black Pepper
1/8 tsp/0.6 mL Watkins Thyme
Salt, to taste

Cooking Directions: Heat pan drippings in medium saucepan. Stir in flour and cook until bubbly. Add remaining ingredients and bring mixture to a boil, stirring constantly. Serve with mashed potatoes, pot roast, noodles, etc. Makes approximately 2 cups/500 ml

Nutrition Facts - 1/4 cup/60 ml per serving.

Nutritional Information Per Serving: Calories 60, Protein 1 g, Carbohydrates 4 g, Sodium 430 mg, Fat 5 g, Saturated Fat 3 g, Cholesterol 13 mg Note: using grapeseed oil will reduce the saturated fat and cholesterol.
Buy Watkins Soup And Gravy Mixes
Shop for Watkins Products in our safe, secure website or request your free Watkins full product catalog.

Share this page or add it to your bookmarks or favorites:


Note: Your customer account # and State/Province is optional, entering them will simply enable us to provide you with better service. We care about and respect your privacy.