Chocolate The Love Potion That Goes Straight To The Heart
Give chocolate to someone special this Valentines Day, and you'll not only satisfy their sweet tooth, you'll put them in a sweet mood, and maybe help them live longer, too! Chocolate contains a natural substance known as the "love chemical" it's what makes you feel "giddy" when you fall in love, and produces feelings of excitement and euphoria. But dark chocolate, and especially cocoa, contain natural compounds that, in addition to producing that loving feeling, are good for your heart, helping to keep cholesterol levels in check and lowering the risk of heart disease. Make an irresistible "love potion" for someone special with Watkins Pure Cocoa, the recipe is right on the can!
Brenda Koth, MS, RD Watkins Inc.
The Benefits of Chocolate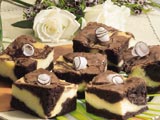 Chocolate contains flavonoids, which are naturally-occurring compounds found in plant based foods. When you consume foods rich in flavonoids, you benefit from the antioxidant effect. Antioxidants are believed to help your body's cells resist damage caused by free radicals, formed by normal bodily processes such as breathing or environmental contaminants. When your body lacks adequate levels of antioxidants, free radical damage ensues, leading to increases in LDL-cholesterol oxidation and plaque formation on arterial walls.

More good news, the fat in chocolate isn't all bad! The fat called cocoa butter, is made up of equal amounts of oleic acid - a heart healthy monounsaturated fat, stearic and palmitic acids - saturated fat. You don't need to feel guilty about enjoying or giving chocolate!


Note: Your customer account # and State/Province is optional, entering them will simply enable us to provide you with better service. We care and respect your privacy. You'll recieve Watkins-News with current product specials and new products once a month.

* The Federal Food, Drug, and Cosmetic Act requires the following statement: These statements have not been evaluated by the Food and drug Administration. This product is not intended to diagnose, treat, cure, or prevent any disease. In Canada, this information is provided for educational purposes only. No claims are being made for any product.