Tips To Shop Safe Online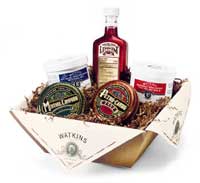 Shopping online is becoming more popular every day and it's no wonder, it saves you time and is ultra convenient. The wide variety of merchandize available online means you can find exactly what you want.
You can shop in the comfort of your own home, when ever you want and your products are delivered right to your door. With the high price of gas, today's busy lifestyles and the mad dash at the mall, shopping online for your everyday essentials, gift giving and other merchandize you want is looking better than ever.
Here are some online shopping safety tips to make your shopping experience pleasant and worry free.
1. Shop only at Internet merchants you know and trust. Many companies who have been in business for years like Watkins Inc., now offer you online shopping. Before purchasing from a company or a Direct Sales representative look on their web site for the contact information of the company and or their representative. My contact information is included here: Customer Service
2. Is the web site secure? Before you enter your personal and credit card information make sure the address bar starts with https, not http. Also the status bar in your Internet window should have a closed or locked padlock. This site is not a shopping site so it starts with http.
Note: If you get a warning window that the certificate has expired when you enter a secure server, you might not want to enter your personal information.
3. Protect your private information. Does the online retailer's web site have a privacy policy? View our Privacy Policy. The Watkins Online Store has it's own privacy policy. Never provide your Social Security number, birth date, or mother's maiden name. Reputable companies do not ask you for this information.
4. Does the internet merchant provide you with an order confirmation? Always print and save the confirmation page when completing an online purchase. Do they follow up with an e-mail confirmation of your order? Do they provide you with tracking information for your order shipment?
5. Does the Internet merchants have a refund or return policy? Check before you place an order; some merchants set a deadline for returns or charge a fee to accept returned merchandise. See Watkins Garantee and return policy.
6. Pay with a credit or debit card and for extra protection enroll your card in anti-fraud program.
7. Does the internet merchant provide you with alternate ordering methods? Can you order by calling a toll free number or by mail? See your Watkins customer service options.
8. Never share your passwords with anyone and use a different passwords for each web site. Don't keep your passwords where they can easily be found.
9. Never, ever send your credit card information in an e-mail.
Shopping Online Saves You Time And Money
Shopping online can save you time and money, internet merchants may offer sales, specially priced items, free shipping, rebates and customer loyalty programs.

Reputable online merchants like Watkins are concerned about your privacy and security and want you to enjoy a safe, pleasant and satisfying shopping experience. I hope that you have found these tips helpful. Add this page to your bookmarks or favorites:

Shop for Watkins Products in our safe, secure Watkins US store, or the Watkins Canadian store, while you are there feel free to request your free Watkins full product catalog to order by phone or mail.


Note: Your customer account # and State/Province is optional, entering them will simply enable us to provide you with better service. We care about and respect your privacy.