Vanilla Aromatherapy - Use Your Bean.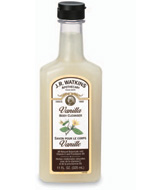 During these uncertain times, more of us are turning to an old favorite for comfort-the vanilla bean. The warm, luxurious aroma of vanilla is often used to ease tension and anxiety and seems to promote feelings of safety and security. Many hospitals use the scent of vanilla during medical procedures and have seen a 63% reduction in patient anxiety. Some hospitals diffuse the aroma of vanilla into waiting rooms to help patients feel calmer and more relaxed, facilitating the healing process. Students take note: Inhalation of vanilla has even been found to improve test scores, perhaps by reducing anxiety in test-takers. Watkins is recognized as the trusted name in vanilla, and is often associated with fond memories. Watkins has taken their world famous Vanilla beyond the kitchen with a complete line of Vanilla personal care products and home fragrances that will make a thoughtful gift for Mother's Day and will take her back to an easier time.
Brenda Koth, MS, RD

Shop for Watkins Vanilla Products in our safe, secure Watkins US store, or the Watkins Canadian store, or request your free Watkins full product catalog.


Note: Your customer account # and State/Province is optional, entering them will simply enable us to provide you with better service. We care about and respect your privacy.