Watkins Spices - Don't Spoil A Good Thing!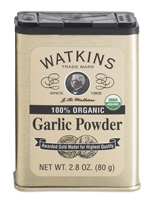 Spicing up your foods not only makes them taste great, it can also help to reduce the presence of bacteria such as E. coli, and slow the spoilage of leftovers. In studies, garlic, onion, allspice, clove, cinnamon, sage and oregano were found to have the greatest antibacterial benefits, killing off most of the bad bacteria present in foods. Thyme, tarragon, dill, and cumin were also very effective. It's the same chemical compounds that protect the spiciest spice plants from their natural enemies may also help prevent your food from spoiling. While researchers caution that foods must still be cooked to the proper temperature to prevent food-borne illness, it's clear that a sprinkling of spices can help keep bacteria at "bay" and preserve your leftovers for a longer "thyme." Watkins offers you over 50 herbs, spices and seasoning blends, including Poultry Seasoning with sage, onion, garlic and other spices that can help to keep your leftovers from going a foul. Buy your Watkins spices in the US store or the Canadian store.
Did you know?
Black Pepper helps reduce bacteria and helps with intestinal health, and you'll find it in a variety of Watkins dietary supplements
Cinnamon helps stabilize blood sugar, it also helps lower cholesterol and can kill bacteria
Cloves are antibacterial, biting on a whole clove can ease a tooth ache, and cloves have been used for years to sweeten bad breath.
Garlic and garlic powder may be antiviral as well as antibacterial
Oregano has the strongest antibacterial properties of all herbs
Sage has been used for years to help preserve stored foods.
Turmeric and spices mixtures that include it such as curry, help prevent food spoilage.
To preserve the antibacterial benefits of your kichen seasonings learn How To Extend The Shelf Life Of Spices And Herbs.


Note: Your customer account # and State/Province is optional, entering them will simply enable us to provide you with better service. We care and respect your privacy.

Shop for your Watkins spices and other products in Us store, the Canadian store or request your free Watkins full product catalog.