Watkins Offers Exceptional Training For Our Direct Sales Associates!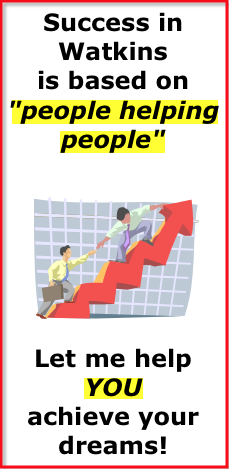 Watkins direct sales training program called System For Success is an easy to follow, step by step program that walks you through getting started, planning your new business and growing your Watkins business for years to come. Once you have decided on the marketing method you'll use, possibly with the help of your sponsor, then you'll easily be able to take the actions to reach your income and personal goals.
What Will You Enjoy With Watkins Training?
There are many benefits to our team's direct sales training system. Here are just a few of them:
No previous knowledge or experience required - you learn as you earn.
Simple step by step materials anyone can follow.
Access 24/7 to training materials to suit your learning style - in print, video and audio.
You choose - self directed learning, one on one mentoring, group coaching
Toll free telephone and email support
Our Team Takes Direct Sales Training To The Next Level
Watkins training materials are outstanding and they may be all you ever need. However, depending on your marketing methods, your learning style and your personal goals, you may want more. So we've ingregrated additional training materials and resources from the very best direct selling industry experts into your training options. Who are these experts? There are many, but to give you an idea we are members of the Direct Selling Women's Alliance and an Internet Marketing Master Mind group to name a couple. No other team helps their associate learn how to market their business on the internet like we do.
Our leaders are serious professionals who have made a career for themselves in direct sales. Bonnie Campbell, our Executive leader markets her business and sells Watkins products through public events and party plan. As the leader of the Watkins Gold Team, Melody Thacker's personal area of expertise is internet marketing, party plan and public events. These are the marketing methods we have been successful with and enjoy the benefits of using. You'll gain valuable knowledge from our experience and our willingness to share that with you.
What's Required?
What do I need to have to do this business? I'm so glad you asked! You'll need:
a willingness and desire to learn
a positive attitude
enthusiasm and energy
a desire to have fun
and recommended but not required - a computer and internet connection.
Personalized Coaching And Mentoring
Wouldn't it be great to have someone you can call or email as soon as you have a question? When you join our team you do have that type of support! If that's what you want, if you don't we respect that too. You are in business for yourself, but not by yourself. If all of this sounds good to you, feel free to contact me, call me toll free: 1-866-452--6948, go here to request your free Watkins business information package or join us now and I'll help you get started.