Watkins Best Salads
Watkins is famous for it's potato salad and coleslaw seasonings, once you've tried them you'll agree it's the best salad you've ever tasted. The best thing about these salads is they are very fast and easy to make! So if you are looking to get out of the kitchen quicker while serving your family and friends salads that taste like you slaved all day, look no futher! Most recipes have variations so you can easily fancy it up to really wow your guests!
Watkins Potato Salad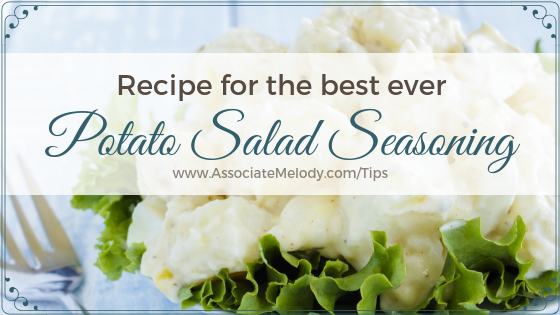 Potato salad is the perfect side dish for barbecues, plus it's great for pick nicks, packed lunches or any time at all.
Ingredients:
6 medium potatoes, unpeeled
3 tbsp/45 mL white vinegar
2/3 cup/160 mL mayonnaise
2-1/2 tsp/12.5 mL Watkins Potato Salad Seasoning

Directions: Boil potatoes in salted water until barely tender; drain and cool. I leave the potatoes in the pot and cover with cold water, drain and refill several times to cool them quicker. Peel potatoes if desired and cube or dice. Add remaining ingredients, toss gently but thoroughly and allow to marinate 30 minutes. Chill until serving time. Makes 4-6 servings.
Potato Salad Variations:

Low fat: use low fat or no fat mayonnaise. I always use low fat mayonnaise in all my recipes and we can't tell the difference.
Fancy it up: add 1 stalk of chopped celery, 3 chopped hard boiled eggs and 1 grated carrot.
Kid friendly: add 3 diced dill pickles, you can also substitute dill pickle brine for the vinegar to increase the pickle flavor.
Nutritional information per serving when prepared as directed: Calories 600, Protein 7 g, Carbohydrates 80 g, Sodium 570 mg, Fat 29 g, Saturated Fat 4 g, Cholesterol 21 mg, and Dietary Fiber 7 g.
Watkins discontined our potato salad seasoning but you can get the secret potato salad seasoning recipe here.
Watkins Four Bean Salad
Ingredients:
1 Can (16 oz./454 g) Green Beans, drained
1 Can (16 oz./454 g) Yellow Wax Beans, drained
1 Can (15 oz./ 425 g) Kidney Beans, drained
1 Can (15 oz./425 g) Garbanzos (Chickpeas), drained
1/2 Cup/125 mL Sliced Onion
1 red bell pepper, diced
2/3 Cup/160 mL White Vinegar
1/2 Cup/125 mL Sugar
1/3 Cup/80 mL Watkins Original Grapeseed Oil
2 teas./10 mL Watkins Seasoning Salt
1/4 teas/2.5 mL Watkins Black Pepper

Directions: Place beans, bell pepper and onion in large bowl. Combine remaining ingredients and pour over bean mixture; toss to coat. Cover and refrigerate several hours or overnight, stirring occasionally. This keeps well in the fridge for several weeks, store in a sealed glass or plastic container.
Nutritional Information Per Serving: Calories 290, Protein 9g, Carbohydrates 44g, Sodium 730mg, Fat 11g, Saturated Fat 1g, Cholesterol 0mg, Dietary Fiber 9g Note: I reduce the seasoning salt by half to cut down on the sodium.
Watkins Coleslaw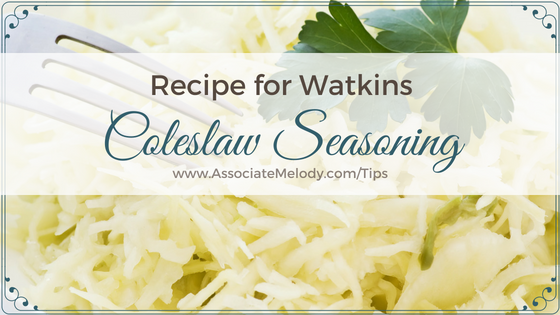 Coleslaw makes a wonderful side dish any time of the year.
Ingredients:
4 cups/500 mL shredded cabbage
1/4 cup/60 mL whipped cream or mayonnaise
3 tbsp/45 mL white or cider vinegar
2 tbsp/30 mL sugar
1 tbsp/15 mL Watkins Coleslaw Seasoning

Directions: Combine all ingredients and mix well. Makes 6-8 servings. Note: I use only 2 teaspoons of coleslaw seasoning as I find that to be the prefect amount for our tastes.
Nutritional Information Per Serving: Calories 50, Protein 1 g, Carbohydrates 10 g, Sodium 200 mg, Fat 2 g, Saturated Fat 1 g, Cholesterol 5 mg, Dietary Fiber 1 g
Coleslaw Variations:

Low fat: use low fat or no fat mayonnaise.
Fancy it up: reduce cabbage by 1/2 cup and add 1 grated carrot.
Watkins Creamy Salad Dressing
This creamy salad dressing recipe is very versatile as it can be served with a tossed grean salad and it's great with pasta salads as well.
Ingredients:
1/2 cup/125 reduced-calorie mayonnaise
1/3 cup/80 mL low-fat milk
2 tsp/10 mL vinegar, less if desired
1-1/2 tbsp/25 ml * Watkins Garlic & Dill Snack and Dip Seasoning

Directions: Whisk together all ingredients until smooth. Serve over assorted salad greens. Makes about 1 cup/250 ml, 2 tbsp/30 ml per serving.

*Also try the following as variations: Garden Vegetable, Cucumber & Dill , Salsa & Sour Cream or Watkins Bacon & Onion Snack & Dip Seasonings.

Nutritional Information Per Serving: Calories 50, Protein 0 g, Carbohydrates 3 g, Sodium 170 mg, Fat 5 g, Saturated Fat 1 g, Cholesterol 0 mg, Dietary Fiber 0 g.

Shop for your Watkins salad ingredients in our safe, secure Watkins online store or request your free Watkins full product catalog.

Like this page? Save it in your favorites or


Note: Your customer account # and State/Province is optional, entering them will simply enable us to provide you with better service. We care about and respect your privacy.