Watkins Degreaser And Multi-Purpose Cleaner
Got a tough oil or grease based stain? Looking for a single cleaner that does it all? No problem, Watkins Degreaser is your solution for tough oil or grease based stains and cleaning problems with it's concentrated cleaning power. One 946ml/32 fl oz container of degreaser makes 64 gallons of cleaner. It replaces dozens of household cleaners and it's completely biodegradable and phosphate-free. It's earth friendly and gentle on hands even undiluted!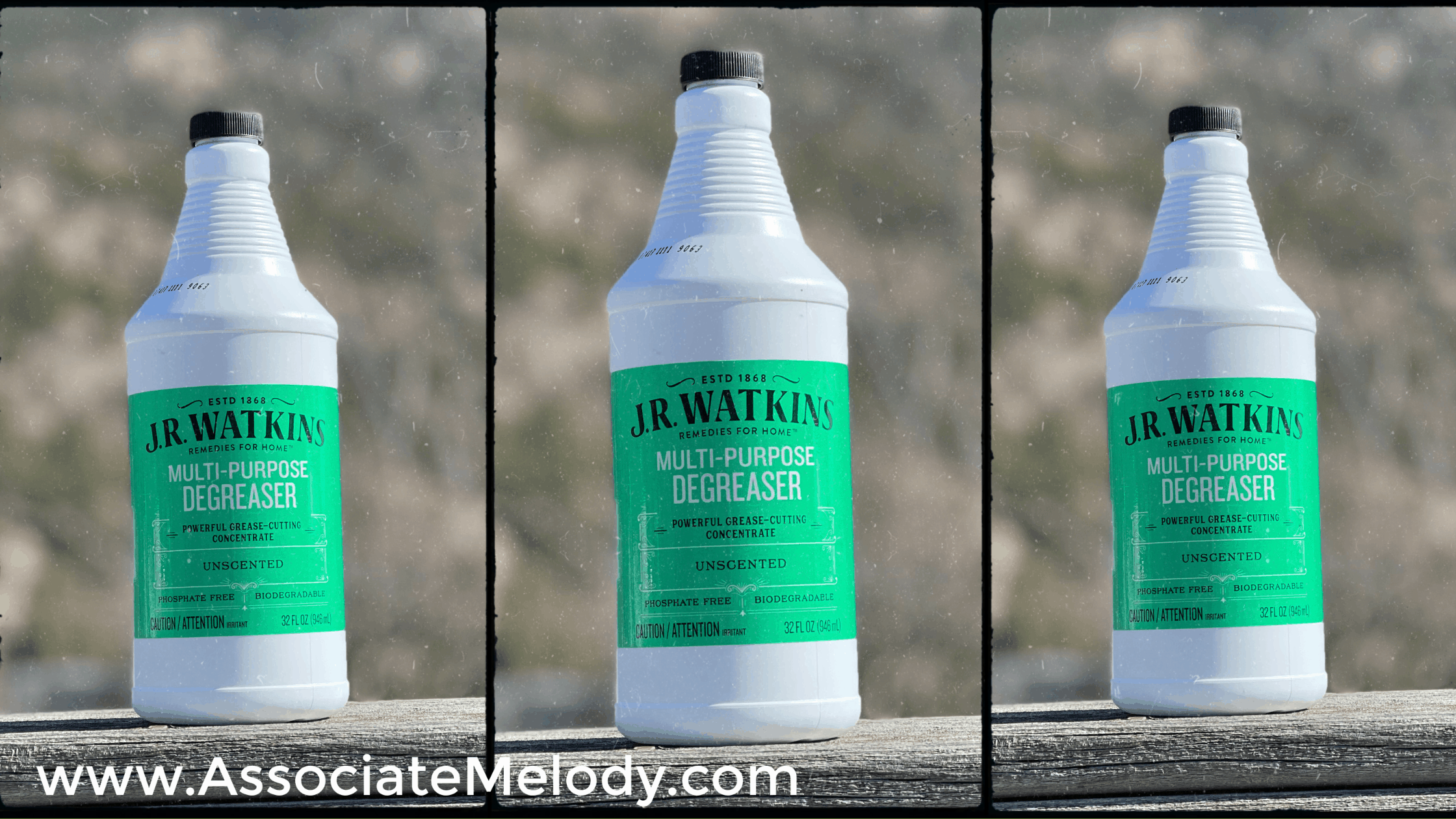 Degreaser is indispensable in the kitchen, laundry room, garage, in the work shop, and all around your home. For general cleaning mix 1-2 tablespoons (15-30 ml) to a gallon (4 L) of water, works in hot or cold water.
Windows and mirrors mix 1⁄4 teaspoon (1 ml) to 1 (1 L) quart of water.
Degreaser can be applied undiluted directly to grease and oil stains on clothing and hard surfaces.
Mix a paste of equal parts baking soda and Watkins degreaser for cleaning items that require extra scrubbing or an abrasive such as glass stove tops, range hoods, bakeware, and to shine stainless steel sinks etc.
Uses For Watkins Degreaser And Multi-Purpose Cleaner
Here's over 40 uses for Watkins degreaser:
use to remove fingernail polish from clothing
clean gas charcoal coals by soaking coals in degreaser and hot water for 1 hour
add a few drops to dishwasher to remove film from older plastic wear
used by rock collectors, takes the black off of the stones and hands
cleans mirrors, walls, and is great for the wall behind the stove
dog sitting on sofa, left a stain? Degreaser and water takes the stain out
Great to clean out the oven, use for cleaning glass on the oven door, especially for self-cleaning ovens.
use for grape stains on the carpet.
use out in the shop on greasy clothes, tractor or mower engines etc.
use on pots, pans, appliances, woodwork, cabinets, work benches, tool boxes and tools.
remove oil spots from cement and concrete floors
removes ball point pen marks, lipstick, blood and hard to remove stains from clothing
wash dishes with 2/3 Watkins degreaser and 1/3 water combined in an empty dish soap bottle or dispenser
use to take stains out of older diapers
kill outdoor bugs by using 2 capfuls in a trigger sprayer bottle and HOT WATER. The solution kills the bugs, helps the lawn, and is non-toxic.
bars and pubs use Watkins Degreaser to remove the smoke film
use to clean kitchen range hoods & fans
use on white wall tires
use to remove black marks off floors
removes magic marker from panelling
clean very greasy jeans with a quarter to a half cup of Watkins Degreaser in washer
cleans camp stove grates
use to clean grills and barbeques
use a capful of Watkins Degreaser in the full windshield washer container of your vehicle to prevent streaking when using the automatic washer
use to clean fan blades
removes gasoline and diesel from clothes
use to remove lip care (lipbalm/chhap stick) residue after it has been washed into clothing
use to loosen bolts
removes mechanical grease from hands
to remove hydraulic fluid from clothes, apply and let soak overnight and then wash as usual
apply to grease stains from cooking, rub gently and wash, this works on stains that are already washed and dried in!
use to wash hand prints and marks in general off walls
use with Watkins laundry white to remove silly putty etc. off clothes
use to wash out paint brushes even if already partially dried
mix with equal parts of Watkins organic cleaner to clean carpets <
use in sink traps to keep them running freely
use to take water ring stains in swimming pools
wash vehicles with degreaser, helps prevent rusting from road salt too
use to clean "sticky" areas on kitchen cabinets
Shop for your Watkins Degreaser in our safe, secure Watkins online store, you'll find it under our Traditional Home Care or request your free A HREF="https://www.associatemelody.com/news/request-a-catalog/"> Watkins full product catalog.


Note: Your customer account # and State/Province is optional, entering them will simply enable us to provide you with better service. We care about and respect your privacy.