Watkins Dill
The green leaves of dill or "dill weed" as it is often called has a sweet aroma and taste. When dried, the dill seeds are similar in taste to caraway seeds, and have a sweet and citric type flavor but slightly buttery as well. Derived from the Norse word "dilla" it means to lull. Thus, this herb is used to induce sleep and is a great insomnia reliever. Order your dill from the Watkins gourmet catalogue
Dill Makes A Great Natural Remedy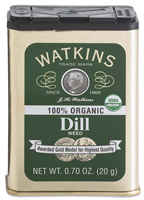 Dill is not just used for pickling or as an added herb to certain dishes, but has medicinal qualities as well. The components in dill oil act as protective neutralizers in carcinogens such as: cigarettes smoke, charcoal grill smoke, and trash incinerator smoke. This oil also prevents bacteria growth, much in the same way as garlic. Dill is also a very good source of calcium which is important for reducing the bone loss that occurs after menopause and in some conditions such as rheumatoid arthritis.
Try crushing dill seeds, soak in water and use as a nail-strengthening bath. Chew a few dill seeds for a highly effective cure for bad breath. It can also be used to relieve stomach symptoms. Simply chop a little dill and mix it with plain low fat yogurt. Did you also know that one tablespoonful of dill seed contains as much calcium as one-third cup of milk? Dill tea is often used as a stomach soother, to overcome insomnia, and even to cure hiccups. In its diluted form, it may even be used as a remedy for gas in infants.
Cooking With Dill
Dill has been used for both its culinary and medicinal properties for thousands of years. It is widely used in Scandinavian cuisine due to its light and delicate flavor. It compliments fish dishes; goes well with smoked salmon, cheese, egg dishes, sour cream and yogurt. Dill seeds have a much stronger flavor and in combination with vinegar and spices make a great pickling agent. They are partnered with cucumbers to make a classic favorite we know called dill pickles. Dill seed is a very good source of calcium, dietary fiber, as well as the minerals manganese, iron, and magnesium. Try the healthy Dilled Vegetable Salad recipe below.

Looking for organic dill? Look no further, you'll find Watkins has organic dill and a whole line of USDA certified 100% organic herbs and spices.


Note: Your customer account # and State/Province is optional, entering them will simply enable us to provide you with better service. We care about you and respect your privacy.
Dilled Vegetable Salad
Ingredients:
1 pound/454 g fresh green beans
1 small head cauliflower, cut into small florets
1 small red onion
3/4 cup/180 mL olive oil
1/4 cup/60 mL white wine vinegar
2 tbsp/30 mL Watkins Dill
2 tsp/10 mL Watkins Italian Salad Dressing Blend
2 tsp/10 mL Watkins Red Pepper Flakes
1/2 tsp/2.5 mL Watkins Garlic Granules
1/4 cup/60 mL feta cheese, crumbled
Cooking Directions: Wash vegetables with Watkins Fresh Wash. Cut ends off beans and cut cauliflower into small florets. Steam beans and cauliflower until crisp-tender, being careful not to overcook the cauliflower. Cut red onion into thin rings. In a small bowl, combine oil, vinegar and seasonings. Pour over vegetables and refrigerate for at least 3 hours or overnight. Top with feta cheese before serving.
Shop for your Watkins dill and othe products in the Watkins gourmet catalogue