Watkins Certified Kosher Food Products
Some Watkins product labels are imprinted with a Kosher symbol and you'll find this symbol in the description of the foods in the print and online catalog as well. The appearance of this symbol on any product means that the product has been certified Kosher by officials of the Jewish faith. The specific symbol appearing on our products represents the organization that has certified our products--the Upper Midwest Kashrut Association.

The following Watkins products have been certified Kosher and Pareve: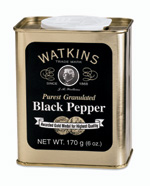 All Natural Pure Almond Extract
Black Pepper
Cinnamon Purest Ground, Korintje
All Natural Pure Orange Extract
All Natural Pure Peppermint Extract
Caramel Extract
Cinnamon Extract
Vanilla Extract all - (Original Double Strength, Pure, Clear, Organic)
Vanilla Nut Extract
Peanut Butter Extract
Root Beer Extract
Maple Extract
Pure Anise Extract
Pure Mint Extract
Pure Orange Extract
Pure Peppermint Extract
Raspberry Extract
Basil
Beef Seasoning
Chili Powder
Chicken Seasoning
Cumin
Curry Powder
Dill
Dry Mustard
Garlic Powder
Ginger
Ground Cloves
Nutmeg
Onion Powder
Oregano
Paprika
Parsley
Rosemary
Sage
Thyme
See all Watkins products Kosher here.

We welcome your questions and comments:


Did you find this page helpful? If so you might like to add it to your bookmarks or share it:


Note: Your customer account # and State/Province is optional, entering them will simply enable us to provide you with better service. We care about and respect your privacy.