Watkins Menthol Camphor Ointment
Watkins menthol camphor ointment or as it's often known medicated ointment is one of the essential products for your first aid kit and medicine cabinet. I'm often asked, "Do you have that Watkins ointment in the green tin?" I'm happy to reply, "Yes!" During cold season and all year round you'll want this cooling, soothing product that has been making people feel better for more than 85 years. Watkins menthol camphor ointment contains no turpentine unlike some competitive products.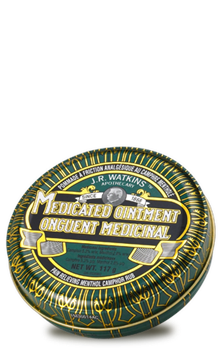 Use menthol camphor ointment:
as a rub on chest and neck to help relieve congestion from chest colds and suppresses coughs
to clear stuffed up noses, apply a little dab around nose
to relieve sore muscles, bruises, sprains and strains gently rub ointment into effected area
to soothe dry, chapped or chaffed skin and prevent futher damage
to soothe and cool windburn, minor sunburn, minor burns and scalds and heat rash
to soothe and speed healing of cold sores and chapped, dry lips, apply as a lip balm
to quickly relieve pain and itching from insect bites and stings apply to the effected area
to relieve the itching associated with haemorrhoids apply a little dab of ointment to the effected area
What do you use Watkins Menthol Camphor Ointment for?

Buy Watkins Menthol Camphor Ointment
Shop for your Watkins Menthol Camphor Ointment in our safe, secure Watkins store or request your free Watkins full product catalog and order by mail or phone.



With Watkins your satisfaction is always guaranteed or your money back!


Note: Your customer account # and State/Province is optional, entering them will simply enable us to provide you with better service. We care about and respect your privacy.

If you found this page helpful please share it!