Watkins Organic Cleaner Your All Purpose Cleaner
Are you looking for a safe and effective alternative to the toxic cleaning products available in most retail stores? Watkins Organic all purpose cleaner may be the solution you are searching for! Earth-friendly Organic cleaner is completely biodegradable and phosphate-free. It has no scent, no added coloring and no fumes. The concentrated liquid formula is gentle, even for sensitive skin but powerful enough for your toughest cleaning problems. It's a versatile all purpose cleaner that can literally replace dozens of cleaners in your home, saving you time, storage space and money.
Dilute organic cleaner with water to use as a spray-and-wipe product or add a little to your sink, cleaning pail or bucket. Because it's concentrated a little goes a long ways.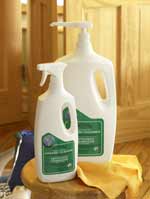 The following are some examples of what you can use organic cleaner for:
washing dishes, add a small squirt (1 tsp.) to a sink of hot water
cleaning kitchen counters and cupboards, spray and wipe for convenience, 1-2 teaspoons to a quart of water
appliances, 1 -2 tablespoons to a gallon of hot water
cleaning the refridgerator, inside and out 1 tablespoon to a gallon of water
mopping the foors, 1 - 2 tablespoons to a gallon of water
windows and glass, 1/2 teaspoon to a gallon of water
cleaning the bathroom, 1 - 2 tablespoons to a gallon of water
washing walls, 1 tablespoons to a gallon of water
cleaning your auto inside and out, 1 - 2 tablespoons to a gallon of water
removing finger and hand prints on doors, light switch plates, 1 - 2 tablespoons to a gallon of water
washing your hands, a little squirt
washing laundry, 1/4 - 1/2 cup per load
pre-treats heavily-soiled clothes, apply full strength to soiled area
washes delicate hand washables such as wool, nylons and other fragile fabrics, 2 tablespoons to a gallon of water
bathing your dogs and cats, apply like shampoo
bathing the baby, or as bubble bath, a small squirt
washing exterior siding, decks, won't harm plants, 1 - 2 tablespoons to a gallon of water
spray on plants to get rid of pests, it won't harm plants, 1 teaspoon to a quart of water
You can use organic for cleaning just about anything and everything, for a cleaner home and a cleaner world. Using Organic all purpose cleaner can help prevent Indoor Air Pollution: Here's the inside story...

Watkins Organic Cleaner is currently NOT available in either the 32 oz/946 ml or the economical 1 gallon/3.78 L size. I'm sorry for the inconvenience.

You might like to try one of our all natural, plant based cleaners! I use Watkins degreaser in place of organic cleaner. Shop for Watkins home care products in our safe, secure Watkins online store, or request your free Watkins full product catalog.


Note: Your customer account # and State/Province is optional, entering them will simply enable us to provide you with better service. We care about and respect your privacy.