Watkins Grapeseed Liquid Oil Spice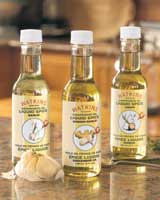 Enjoy the flavor of fresh garlic or chipotle peppers year round with the convenience of dried spices at your finger tips. No time to clean garlic? Tired of wearing rubber gloves to prepare hot chipotle peppers? No problem! You can easily add "garden fresh flavor" with just a dash; no peeling, chopping or mincing required! Watkins grapeseed oil liquid spices get their full, fresh flavor from pure essential oils, the flavor essences which can decrease or change significantly when the plant is dried. These all natural spices are concentrated and convenient, use them in equal amounts as their dried counterparts in your favorite recipes. Each teaspoon (5 mL) contains 40 calories, 4.5 g total fat and 0 trans fat; since a little goes a long way in flavor you won't need to be too concerned with extra fat and calories. Learn more about the health benefits of grapeseed oil and why it's so special.
Chiptle Liquid Spice
A chipotle (chee-POTE-lay) chile is a jalapeľo which has been ripened to a brilliant red, then smoke-dried over a mesquite fire. Watkins has captured the smoky heat and deep, rich flavor of chipotle peppers in a base of pure grapeseed oil to make this delightful Liquid Spice. Its intense flavor is perfectly suited to foods like barbecue, chili and grilled fare, and adds a deliciously piquant counterpoint to cream sauces, dips and mayonnaise spreads. Use to season steaks on the grill for extra smoky flavor and spicy heat. Add to your barbecue sauce for Tex-Mex flavor and heat. Use to brown meat and onions for chili; add more later. Shake on fajitas for an authentic, smoky flavor. Stir into pesto sauce, salsa or tomato sauce for a unique lift.
Garlic Liquid Spice
Garlic is most often used as a seasoning in savory dishes. If you love garlic but not all the work involved when cooking with fresh, this liquid spice is your solution. Use this liquid spice when ever garlic is called for in a recipe; sprinkle into soups, stews, gravy, salads and sauces. Perfect for stir frys, seafood, and seasoning roasts and steaks before cooking. Mix 1 teaspoon of garlic liquid spice with 1/4 cup of butter for fast and easy garlic butter.

Shop for Watkins liquid spices in our safe, secure Watkins online store, or request your free Watkins full product catalog.

Recommend this page to a friend or add it to your bookmarks or favorites:


Note: Your customer account # and State/Province is optional, entering them will simply enable us to provide you with better service. We care about and respect your privacy.