Watkins Caramel Extract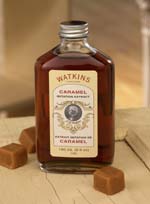 I am very happy to announce that Watkins Caramel Extract is back in stock! Watkins patiently developed a rich caramel flavor that will make your baked goods taste better than ever. Both sizes are ready to order now.
21364 (2 fl oz/59 mL) $4.99/$6.99
01193 (6 fl oz/180 mL) $8.99/$11.79
I've had so many requests for this extract and it's no wonder as the rich, sweet flavor is perfect in a fruit dip, excellent in frostings, cookies and many desserts. The recipe below is one of my favorites, it will keep in the fridge for several weeks… if your kids don't find it!
Caramel Apple Dip
Mix together the following using an electric mixer:
1 package (8 oz/227 g) softened cream cheese, 1/4 cup/60 mL brown sugar, 1 tsp/5 mL Watkins Double-Strength Vanilla and 1/2 tsp/2.5 mL Watkins Caramel Extract.
Core and slice apples, pears or other firm fruit and serve with the dip.
Order your Caramel Extract now