Why Shop with a Watkins Consultant?

Are you wondering, Why should I choose to shop with a Watkins Consultant?  There are a number of benefits to doing business with an Independent Consultant including receiving the type of service you want and extra privacy. Watkins understands the value of excellent service. Part of the value of shopping with Watkins is the opportunity for you to receive personal service and in-depth product information from an Independent Watkins Consultant such as myself.
Benefits of Shopping with a Watkins Consultant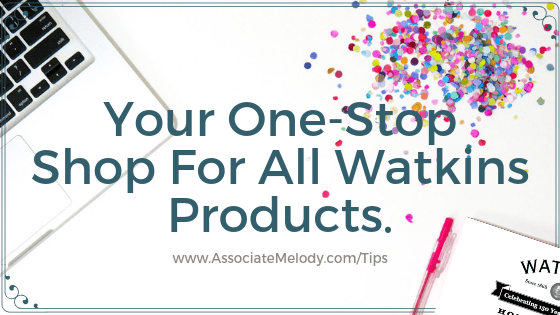 As your Watkins Consultant you may enjoy the following:
Access to the entire Watkins product line all in one place. Watkins extracts, spices and gourmet foods, your trusted Watkins remedies, natural home care, and natural body care products. Plus select items from Nordic Ware.
A free Watkins catalog, scroll down this page to request yours. The company no longer prints catalogs so you can only get one from a Consultant.
An email newsletter with our monthly specials, recipes, and tips.
A toll-free number to call 1-866-452-6948
Assistance in placing an order and help to select the products appropriate for your needs.
Extended business hours, quicker response times, and more service options.
A printable mail order form for your convenience, click here for your free customer order form.
Product usage tips, recipes, and more.
Receive free products by holding an online or catalog party.
Assistance to find your account number and password in some cases.
Assistance to rectify your order errors or omissions in the rare instances should they occur.
Facilitate a refund for orders placed through me.
Watkins product satifaction guarantee is one of the things I love! Every Watkins product purchased through me carries this guarantee so I know I'll have satisfied, happy customers! Did you know, purchases from retail stores and other online vendors are NOT covered by Watkins money-back guarantee? If you purchased Watkins products from a retail store or another online vendor, please contact the store or vendor directly for their return policy.
If you are concerned about privacy, this statement may interest you:
Watkins may establish a business relationship with other persons or entities known as their Select Partners. If you order directly from Watkins (not connected to a Watkins Consultant), Watkins might rent, exchange, share and/or cross–reference information, including contact information about you that will enable such persons or entities to contact you regarding products and services that may be of interest to you. (From Watkins1868 Privacy Policy)
However, when you decide to shop with me as your Watkins Consultant, Watkins will NOT share your personal information with any marketing company, business, or third party except to Service Providers to complete the function you have requested (for example, myself your consultant, your credit card company, the delivery company). I personally promise to never, ever share your information with any third party as per this privacy policy.
I hope you find this information helpful and you'll shop with confidence and more peace of mind when you choose me, an Independent Watkins Consultant to serve you.
Watkins Catalog Request
Request a Watkins catalog from Melody Thacker an Independent Watkins Consultant.