Become a Watkins Consultant For Only $19.95!

For a limited time, you can become a Watkins Consultant for only $19.95! That's $10 off our regular annual membership fee! Spring is in the air, a season of new beginnings and a great time to start a new adventure!
Build Your Own Adventure with Watkins
Watkins is a "do what you want" business so you can literally build your own adventure! When you become an Independent Watkins Consultant you get:
An entire year's membership for $29.95, but during this promotion, you get your first year's membership for only $19.95!
Partner with a respected, 155-year-old company
No hidden fees.
No monthly quotas or sales requirements.
Four free websites and other marketing tools.
Training, mentoring, and support.
Zero pressure or obligation.
Perks include discounts, consultant-only deals plus commission, and bonus income.
There's a lot of flexibility in your Watkins business. You get to:
determine the level of success you want to pursue;
choose the business methods you want to use;
decide how much you'll work on your business, and at what time of day or night.
That flexibility is a wonderful part of Watkins—you can work at your own pace, do the activities you want, and still have success.
If this is your time to begin a new adventure there has never been a better time to become a Watkins Consultant.
Ready to join? Great!
Join Now
Important note for Canadians, you will need to switch countries by clicking on the US flag and selecting the Canadian flag.  After the site refreshes click Login /Register (next to the flag) and join us as a Consultant.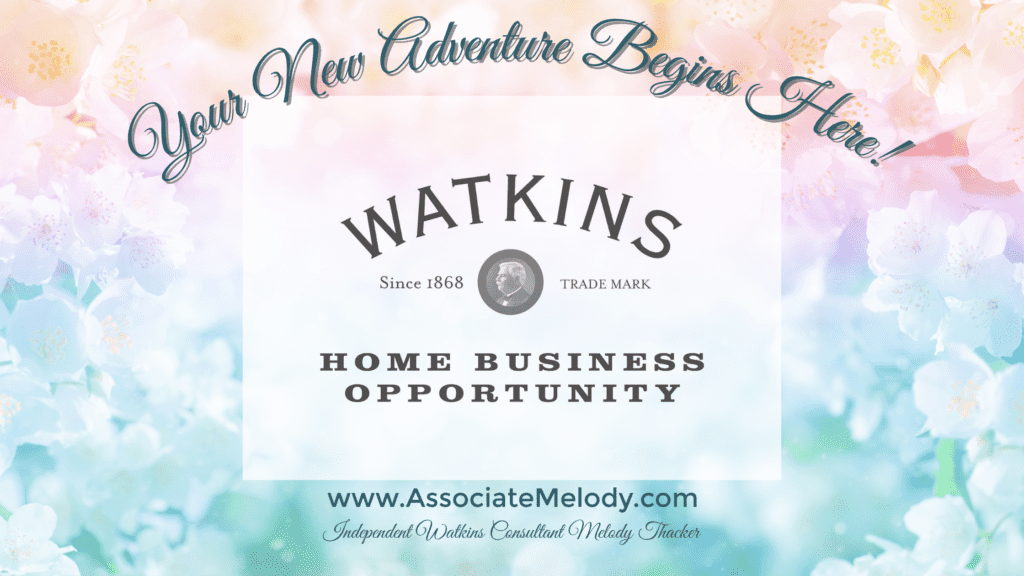 Starting a New Adventure Can Be Scary and Exciting.
But what if it led to you being your own boss? Financial freedom? An amazing support community to lift you up along the way? More time to spend with your family? Vacations? Saving money on your grocery bills?
What is stopping you from taking the next step? Request your free, no-obligation information packet today!
Watkins Business Info Request
Request Watkins Business information from Melody Thacker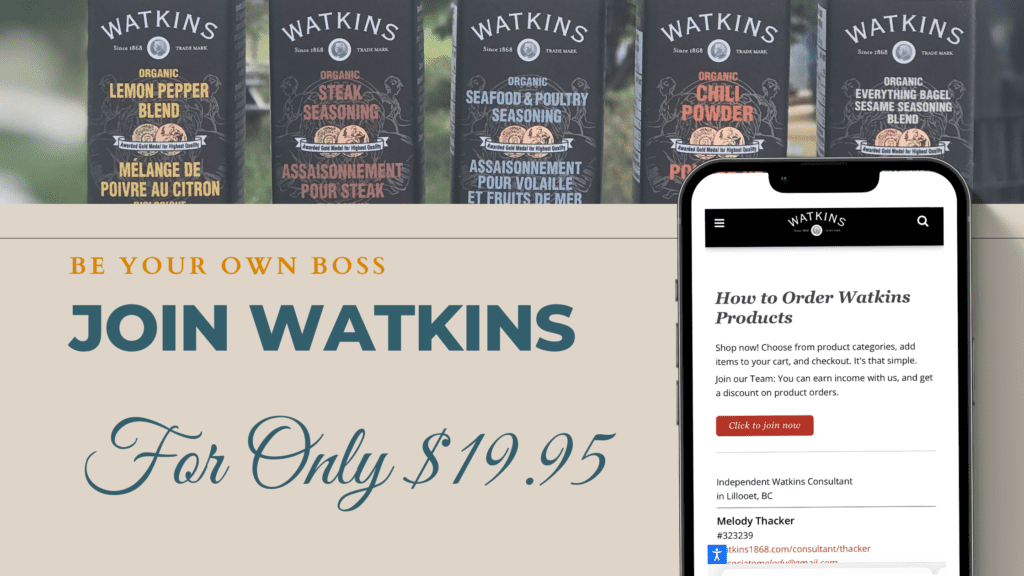 The Perks of Being a Watkins Consultant
As a new Watkins Consultant, your first perk is the ability to receive a $20.00 fast start bonus. It's like getting your membership fee back! During your first fifteen days, simply place a $150 order and you will get a free $20.00 Watkins gift certificate to use on a future order of Watkins Gourmet Food products. You get to build your own starter assortment or adventure kit of Watkins products and business materials such as catalogs and order forms.
As a consultant you also get:
a discount on Watkins products
Consultant-only specials
commissions up to 35% on your sales.
achievement-level bonuses on your own sales and the sales of other people on your team.
the ability to qualify for a cash bonus every month
unlimited growth potential
You can save money and or earn money the way you want.
The Benefits of Being a Watkins Gold Team Consultant
The Gold Team's mission is to empower people to live better lives with Watkins. We provide tools, mentoring, and support to help them become leaders and masters of their own destinies.
We love helping our Consultants and seeing them reach their goals with Watkins. To support them we offer:
Access to a private training website where you can learn at your own pace how to market and grow your new Watkins business. This is exclusively for our team!
A private Facebook group where you can ask questions, and learn tips, tricks, and new ideas. We love having fun with our friends.
Regular email newsletters with recognition, training, and tips.
Coaching, mentoring, and support by telephone, a toll-free number to call if you need help or have questions.
Support by text message or Facebook messenger.
Checklists for a simple, duplicatable system. Printables, images, and signs.
Live and recorded zooms to support you
Our favorite part is cheering for you and celebrating your wins with you, big and small. Every action and accomplishment is worth celebrating.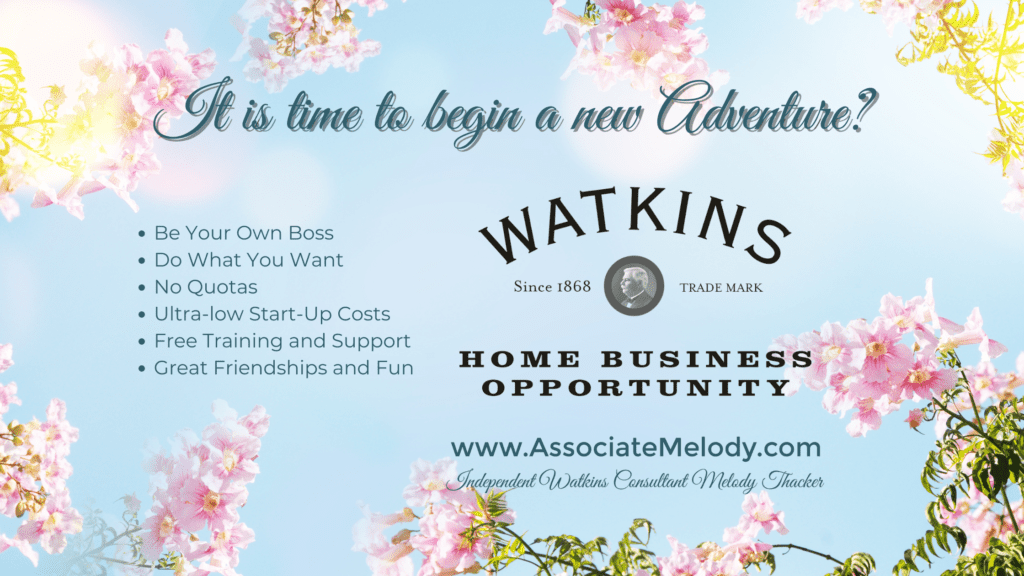 What are Watkins Products?
Are you new to Watkins? Watkins products are affordable, superior quality gourmet and organic cooking and baking essentials. Herbs, spices, seasonings, extracts, flavors, sprinkles, soup and gravy base, and more. Food items are non-GMO, dye and artificial colour-free, gluten-free, and high fructose corn syrup-free.  Watkins is also famous for its old-time, natural remedies for pain, cough, and cold relief such as liniments and salves.  Plus we have natural body care like hand soaps and hand cream.  We also sell select items for the kitchen by NordicWare. 
Are you ready to become a Watkins Consultant and begin your new adventure now? Save 33% on your first year's membership when you join us in April 2023. 
Join Now
Becoming a Watkins consultant was the best thing I ever did and continues to be a wonderful adventure.