The Perfect Gift Watkins Gift Certificates
Watkins Gift Certificates are the perfect gift for almost anyone year round. I like giving them because that way I know the recipient will be able to choose exactly what they want.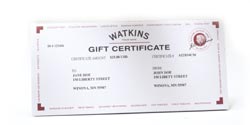 For the cook or baker — they can choose gourmet food, this includes the very best vanilla, extracts, herbs and spices. If they don't have much time to cook they can choose quick and easy seasoning blends and delicious mixes.
For the health minded — perhaps they could use some remedies for their aches and pains or some dietary supplements to enhance their latest resolution. Or they might want to choose some heart healthy grapeseed oil.
For women and teen girls — they could treat themselves to some wonderful pampering products from our apothecary shop, so they'll feel great, all thanks to you!
For the eco-minded — they may prefer some practical products to clean their home safely without toxic chemicals. They might like to have some organic herbs and spices or organic vanilla for their kitchen.
Watkins Gift Certificates are available in whole dollar amounts from $10.00 to $100.00 and come with a full product catalog, order yours today Canadian or US and get a jump on your gift giving chores.