Two New Watkins Products Natural Seasoning Blends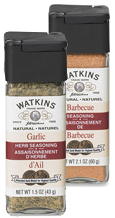 Spice up your cuisine with these two new convenient, pre-mixed seasoning blends from Watkins. The flavors perfectly complement your beef, chicken pork or turkey recipes with mouth–watering results.
Our newest seasonings are available now and you can get them immediately at the November Special Price!
01913 Barbecue Seasoning (2.1 oz/60 g) – combines all the smoky, sweet flavors you've come to expect from a backyard barbecue. Rub generously on chicken, beef and steak!
01912 Garlic Herb Seasoning (1.5 oz/43 g) – boasts a combination of savory herbs with a splash of garlic. Use as a rub for chicken, pork, and turkey.
We sampled these at Watkins business conference this year, the taste is wonderful and I couldn't wait try them on my family. Perfect for gift giving and everyday use, order yours in the US catalog or the Canadian catalog.