JR Watkins Lip Tints New Colors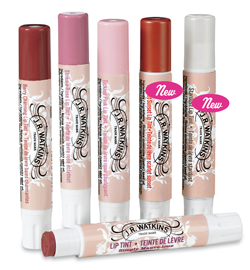 The first time I tried J.R. Watkins Lip Tints I fell in love with them. I'm not a big cosmetic user but I've always liked to add a bit of color to my lips. My two favorite colors are Berry Charming and Simply Mauve-lous. My daughters like the lighter colors. We like how this lip tint goes on smooth  and has a refreshing peppermint tingle. Knowing that it's made from bee's wax and it's 100% natural makes us very happy too.
Exciting news, Watkins has just introduced two new lip tint colors to our very popular Lip Tint line. Scarlet Sunset adds a touch of classic glamor day or night, while Stardust provides a subtle hint of sheer glimmer. I know I'm not the only one who loves these lip tints, they've been a hit with women of all ages, from young teens to the young at heart.
You are bound to find the perfect color just for you with six to choose from.
20223 Berry Charming
20221 Strike-a-Rose
20220 Tickled Pink
20222 Simply Mauve-lous

In the United States $4.99
In Canada $5.99 each

Specially priced new colors
20218 Stardust
20219 Scarlet Sunset
In the United States $4.99 Special only $4.59 each
In Canada $5.99 each CAD Special only $5.29 each
Which shade do you want?