Watkins Black Walnut Extract And Danish Pastry Extract
Fantastic news, Watkins Black Walnut Extract and Danish Pastry Extract will be available August 25th! These two popular extracts have been requested by many of my customers so I'm delighted to be able to share this wonderful news with you.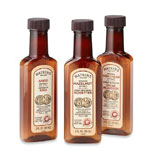 I've been attending Watkins Business Conference this week and one of the benefits of attending is we are the first to receive the inside scoop on new products being introduced, and our fall seasonal products for holiday shoppers.  Because so many people have been asking for them I just couldn't wait to let you know about these extracts.
What can you make with Danish Pastry Extract?
Well, you can use it in a variety of baking, pastry, dessert recipes and beverages.  You can even add it to coffee, best when added to coffee grounds before brewing and it's heavenly to flavor milkshakes and smoothies . Try it in squares, rice crispy treats, chocolate truffles, caramels, cheesecake, cookies, muffins or more.
What can you make with Black Walnut Extract? This extract can be added to any recipe that calls for walnuts or nuts to enhance the flavor.
Here's a recipe for you to try with either of these extracts:
Important Notice: these two extracts are no longer available, we are sold out for the season, sorry!