US Watkins Products Being Discontinued
The following Watkins products were discontinued in the US in 2013.
See All Watkins Products Here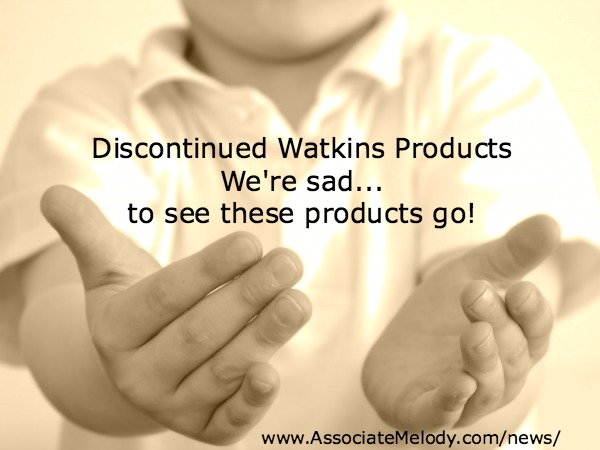 I really hate sharing bad news as much as Watkins dislikes having to discontinue any of our wonderful products. We know that even a product that hasn't sold as well as we'd like is still a favorite of yours and many of our other customers. I've seen how our product development team at Watkins headquarters puts a ton of love and care into each new product we introduce. It seems as if the products are our "children" that we're sending out into the big wide world—so of course, we want them all to be highly successful.
Watkins Natural Gourmet Foods 
| | | |
| --- | --- | --- |
| Article Number | Description | Estimated Out of Stock Date |
| 21143 | Poultry Seasoning | Out of Stock |
| 01168 | Meat Magic | Out of Stock |
| 05960 | Gold Medal Assortment | Out of Stock |
| 01038 | Baking Cocoa | Out of Stock |
| 21912 | Garlic & Herb Seasoning | December 2013 |
| | Organic Vanilla Extract | Available Again |
| 21179 | Cream Soup Base | April 2014 |
| | Seasoning Salt | Available Again |
| 60444 | Peanut Butter Extract | April 2015 |
Watkins Natural Bath & Body Care
| | | |
| --- | --- | --- |
| Article Number | Description | Estimated Out of Stock Date |
| 20449 | Mango Body Oil | November 2013 |
| 40516 | Mango Hand Cream | December 2013 |
| 40510 | Vanilla Hand Cream | January 2014 |
| 20471 | Aloe & Green Tea Body Wash | January 2014 |
| 23326 | Aloe & Green Tea Shampoo | January 2014 |
| 23327 | Aloe & Green Tea Conditioner | January 2014 |
| 20500 | Facial Cleanser | January 2014 |
| 20501 | Pore Scrub | January 2014 |
| 20502 | Divine Day Cream | March 2014 |
| 20503 | Nourishing Night Cream | August 2014 |
| 25102 | Hands & Feet Retreat | December 2014 |
| 25106 | Baker's Essentials | December 2014 |
| 25112 | Weekend Warrior | December 2014 |
| 20474 | Vanilla Hand & Body Lotion | March 2015 |
| 20520 | Mango Hand & Body Lotion | July 2015 |
JR Watkins Natural Home Care
| | | |
| --- | --- | --- |
| Article Number | Description | Estimated Out of Stock Date |
| 06248 | Bathroom Caddy & Brush | December 2013 |
| 26741 | Lemon Liquid Laundry Detergent | March 2014 |
| 26742 | Fragrance Free Liquid Laundry Detergent | March 2014 |
| 23053 | Orange Citrus Hand Soap | November 2014 |
| 06730 | Generation III Laundry Detergent | December 2014 |
Watkins Home Remedies
| | | |
| --- | --- | --- |
| Article Number | Description | Estimated Out of Stock Date |
| 10498 | Burn Cream | Out of Stock |
| 02320 | Cough Syrup & Decongestant | February 2014 |
See All Watkins Products Here