Our Favourite Products

We are often asked which are your favorite Watkins products? Which ones do you use? So I thought I'd share some of our favorite Watkins products with you.
Our team holds challenges and fun things like a scavenger hunt through out the year and one of the tasks is usually product knowledge based, we share about what we love so our team mates can learn about them too.
We hold our challenges to inspire our Consultants to be brave, touch different parts of their business, try new things, learn new things, have fun and generally stay focused. Our fun challenges help everyone whether they joined as a hobby or are a serious business builder.
Below Are Some of Our Favourite Watkins Products From a Recent Scavenger Hunt.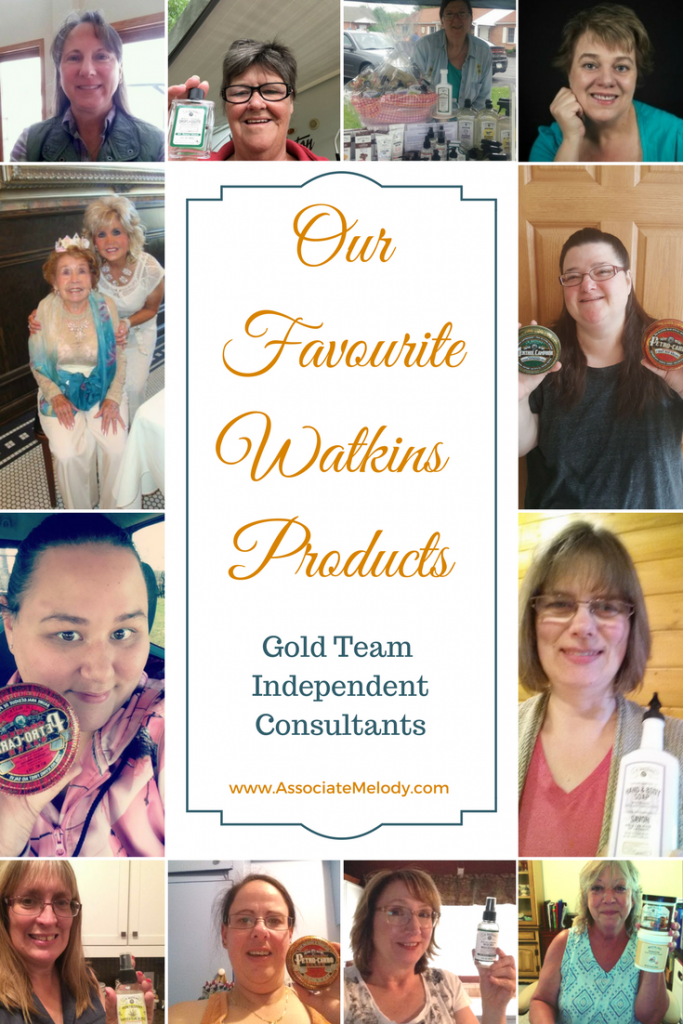 Cheryl Burgess said, "One of my favorite Watkins products is: Castile Hand & Body Liquid Soap (Lavender). After less than a week of using this soap to clean my face, it feels smoother and softer."
Sherri Houston said, "I have several favorites: Aloe & Green Tea Room Freshener, Degreaser, All Purpose Cleaner (Coconut), Hand Cream (Lemon Cream) and Daily Moisturizing Body Wash (Coriander & Cedar) – best scent ever! What I love the most is the packaging! As I'm switching all my old products to Watkins, all my packaging matches. It's awesome!! The room freshener is my favourite product… especially when you have seven pets."
Jennifer Pond said, "Here is an impossible task. Melody wants us to share our favorite Watkins product and how we use it as part of the scavenger hunt. How do I narrow it down to just one? Honestly, I am head over heels about ALL our products, and love the thought of going natural and chemical free, but here are just a few that come to mind:
dish soap (LOVE it, and so does my skin!)
hand soap (ditto)
MCO (I love this for pain, actually)
Body oil mist, in lavender (the very first Watkins product I fell in love with. One whiff and I was hooked. Smells just like the lavender I grow in my herb bed–heavenly!!!)
Sugar and Shea body scrub (girls, if you haven't tried this, are you in for a treat. You will not believe your skin afterwards)
Tub and Tile (I think I would die without this)
Laundry soap (ditto again)
Pain Spray (so convenient)
APC (makes life so much easier)
Toilet Bowl cleanser (love my septic tank too!)
Pepper grinders! YUM!!!!
I could go on and on and on…
Stacy Taylor said, "It really is a tie!! I love all my Watkins."
Martha Hodgins said, "Lately my favorite product is Menthol Lavender Drops – apparently I snore and I find if I put a few drops on my pillow as the bottle instructs, it helps me breath easier and I don't snore as much as I did. It also smells so good and deep breathing it also helps me sleep."
Karen Stroud said, "My favorite Soup base mix Chicken and Onion tonight I am cooking Spaghetti Squash using both for a sauce instead of my usual Tomato mixture."
Sherri Houston said,  So I have a very finicky dog. She's been on medication this week and it was very important that she eat. I made up some Watkins gravy and put in a teaspoon in her dog food. She loved it!! I've never seen her so excited about her food.
Edna Toth said, Petro-carbo is a favorite on bug bites for myself as it helps take the itch out. I also use it for animals when they get cuts to help prevent infection and heal the cut up quickly for the animal.
Medicated ointment is great for sore muscles or chapped lips.
The hand soaps are awesome as they are not hard on my hands and it helps make them feel soft. the list could go on and on for me but I just picked a few of my favorites.
Tasha Cheyanne said, This (petro-carbo salve) also happens to be our favourite most used in our house! ? with babysitting little ones I've used it a lot for them and the better half tends to cut himself a lot with his scrap job. He's a strong believer of it's magic!!"
Ellie Milone said, I LOVE all of the Watkins products. My home is full of them. I do just rave about the dips and bring them to Block Parties, Get Togethers and are always a big hit. Love the Gravies and usually give some away as samples, gets them coming back for more! I could go on but then this post would be really long……..Ha! Hey Gals and Guys… The Cooling Gel is amazing! First time using it.
Judy Westcott said, Monster Spray! Or Menthol Camphor Mist. At today's Farmers Market, a lady bought 2 because her grandson can't sleep at night unless they spray the bedroom to keep the monsters away first! I love, love this product, I use it for aromatherapy, even when I don't have a sinus issue because it is calming, as a pain relieving spray (my mother found out it helps relieve shingles rash pain and itch), for sunburn, and in the shower to help me breathe.
Judy's post inspired me to make this graphic so more people can learn about our Monster Spray! Keeping monsters away is very important wouldn't you agree?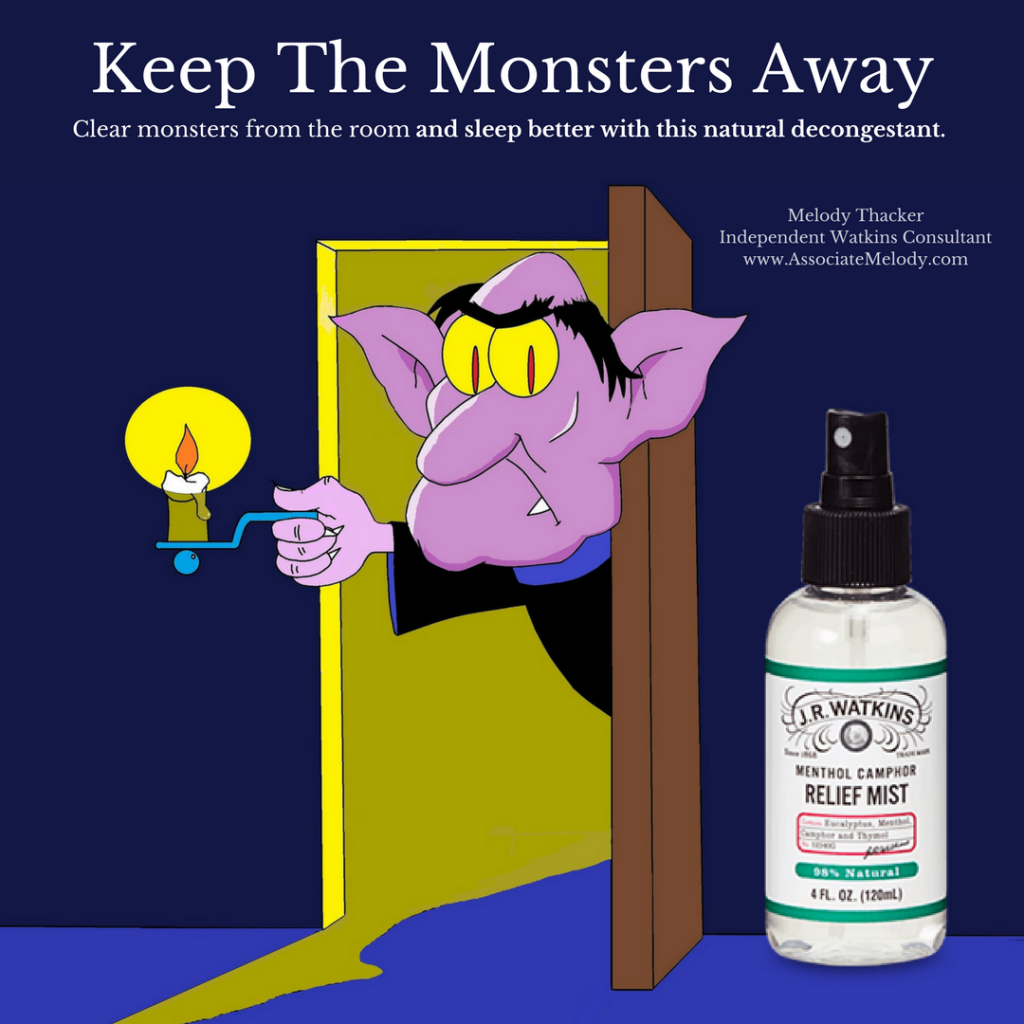 Personally, I use items from all four of our product lines, gourmet foods, home care, remedies and body care.  Some of my favorites in our gourmet foods are vanilla, cinnamon plus all the herbs and spices, soup and gravy bases, grapeseed oil and snack and dip mix.  Laundry detergent, tub and tile cleaner, degreaser, all purpose cleaner, dish soap (I love any of the citrus scents) and our high powered toilet bowl cleanser for hard water stains. We couldn't be without our two favorite remedies petro-carbo salve and menthol camphor ointment (also called Mediated Ointment in Canada and Menthol Camphor Cough Suppressant Rub is it's new US name), these two are favorites for most of us! Body wash, sugar and shea butter body scrub and body oil mist are my three favorite body care items. You can learn more about our lotions, creams, oils, and potions here!
You'll find the contact information of the consultants who shared their favorites on our Find a Consultant pages.   
We hope you enjoyed hearing about some of our favorite Watkins products. Feel free to comment below and tell us about your favorites!