Watkins Purest Ground Cinnamon
Award winning Watkins Cinnamon is a high-oil Korintje cassia, which is about twice as flavorful as Ceylon cinnamon, and is the very best quality cinnamon you will find anywhere. Korintje cinnamon gives you the outstanding flavor you've come to expect in your favorite baked goods. If you haven't tried Watkins cinnamon yet what are you waiting for? You'll taste the difference Watkins quality makes. Order your Watkins cinnamon here.,
Cinnamon Tastes Great And It's Good For You Too!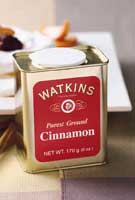 Try some of our wonderful Watkins cinnamon recipes. Did you know that cinnamon has natural antibacterial properties and is a natural anesthetic? Try this the next time you get a small cut; wash the cut thoroughly, pat it dry and sprinkle it with a little ground cinnamon before bandaging. This should stop the sting, and help the cut heal faster. Suffering from a cold? Treat yourself to some cinnamon toast or sprinkle the spice on some chicken noodle soup for added flavor and an instant cold remedy. Learn more about the benefits of cinnamon for diabetes and cinnamon for lowering cholesterol.


Note: Your customer account # and State/Province is optional, entering them will simply enable us to provide you with better service. We care and respect your privacy.
What Else Is Cinnamon Good For?

Cinnamon is great for baking, but did you know it has some other uses too?
Sprinkle Watkins Cinnamon on stored potatoes to keep them from sprouting.
Mix 2 tsp Watkins Cinnamon with 1 cup baking soda and use as a carpet freshener before vacuuming.
Sprinkle Watkins Cinnamon around plants to prevent mold from growing in the soil.
Combine 1 tsp Watkins Vanilla, 1 tsp Watkins Cinnamon and 1 tsp Watkins Allspice in 1 cup of water. Simmer on low to make your home smell like you've been baking.