Become a Consultant for Only $19.95
Join Watkins as a Consultant for Only $19.95, and when you join us during the month of September 2016 Watkins will give you a $20.00 Watkins products gift certificate. Wow, what an awesome deal!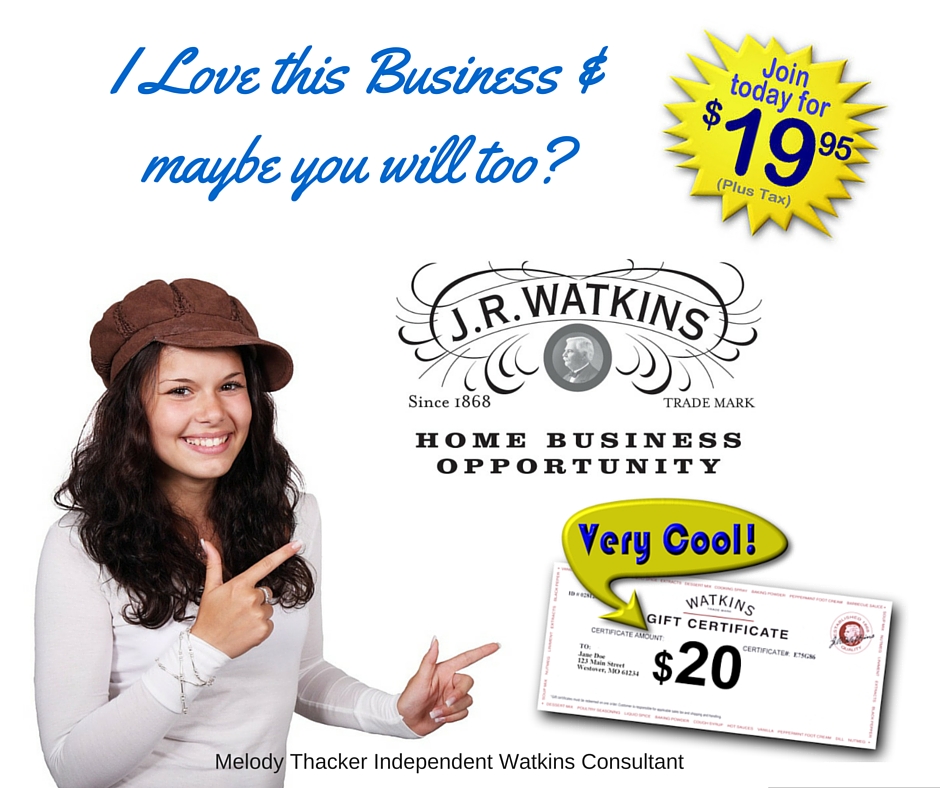 Join today, and you can take advantage of our special offer for the electronically-delivered Membership Packet for only $19.95 plus applicable tax. You'll receive online access to the all the information you need to get started. Plus Watkins will mail you a $20.00 gift certificate in a week or two so that you can order some of our products to use yourself, for samples or to resell and increase your profit!
Ready to join? Great go here, click Sign In/Create Account, choose Join Watkins as a Consultant! Be sure the number 323239 is in the Your Sponsor Box with my name, Melody Thacker. (Note the website defaults to the US version, if you live in Canada click the Canadian flag first.)
Have questions? Keep reading…
People join Watkins for many reasons, some become a Consultant to buy their favorite Watkins products wholesale others are looking for a viable business or income opportunity.  Is a membership right for you?
What type of support can you expect when you join our Watkins team?
We love helping our Consultants and seeing them reach their goals with Watkins. To support them we offer:
Two training websites where you can learn at your own pace how to market and grow your new Watkins business. One is for every Watkins Consultant, the other is exclusively for our team!
A private facebook group where you can ask questions, learn tips, tricks, and ideas, celebrate wins and have fun with other consultants.
Regular email newsletters with recognition, training, and tips.
Coaching and support by telephone, a toll-free number to call if you need help or have questions.
Support by text message or facebook messenger.
An online listing to help people find your and your business.
Live and recorded webinars to support your business.
Do you still have questions? See if Your Watkins Home Based Business Questions are Answered here or call toll free 1-866-452-6948 to see if Watkins will be a good fit for you.
Ready to join us now? Awesome go here, click Sign In/Create Account, choose Join Watkins as a Consultant! I'm excited for you! Be sure the number 323239 is in the Your Sponsor Box with my name, Melody Thacker. (Note the website defaults to the US version so if you live in Canada be sure to click the Canadian flag first, see image below.)