Watkins Herbs And Spices
Watkins goes many extra miles to find you the very best of the world's herb and spice crops, buying only the highest grade possible from every region, then carefully processing them to preserve the maximum amount of essential oils possible. Dried herbs and spices add flavor and variety to your meals without adding additional fat or calories and are easy and convenient to use. Try new and different combinations of herbs and spices to add ethnic flair from around the world to your menu, with out ever having to leave your own home. Not only do herbs and spices delight your taste buds, they may also carry health benefits as well. Watkins offers over 50 pure herbs, spices, seasoning blends for you to choose from. Watkins pure herbs and spices contain a higher amount of essential oils, the components that contribute to more flavor, aroma and health benefits - than others on the market.
Shop for your favorite herbs and spices and other Watkins products on my website. Or request your free Watkins full product catalog and order by mail or phone.


With Watkins your satisfaction is always guaranteed or your money back!
What Are Culinary Herbs And Spices?
Herbs are usually the green, leafy part of aromatic plants grown for culinary use. Spices are the seeds, berries, bark, root, or other parts of the plants. As a general rule when cooking the spices should be add early to the dish so the flavors will meld and blend into the dish and herbs should be added nearer the end of cooking process.
Health Benefits - Why You Should Cook With Herbs And Spices
Cooking with herbs and spices not only makes your food taste great, it can also help to reduce the presence of bacteria, slow the spoilage of leftovers and it's an easy way to get your daily does of antioxidants. You can learn which herbs and spices have antibacterial properties which may help to reduce the presence of bacteria such as E. coli.
Various herbs and spices contain many nutrients and phytochemicals which may carry health benefits. Research shows that small amounts of certain herbs and spices are potent and low cost defence against free radical damage. Here are some examples:
1/2 teaspoon of oregano has as many antioxidants as 3 cups of spinach!
1 teaspoon of curry powder has a many antioxidants as 1/2 cup of red grapes.
1 teaspoon of cinnamon has as many antioxidants as 1 cup of pricey pomegranate juice!
Here's a barbecue tip for you:
Season 1 pound of chicken, pork or beef with 2 teaspoons of Watkins garlic granules, then grill until juices run clear. Not only will your meat taste delicious, the garlic may help reduce the danger of E. coli by 90%! Learn more about the health benefits of garlic.
To learn more about the health benefits of herbs and spices visit our article section or check out the herb and spice list below.

Your comments are welcomed:

Watkins Pure Natural Herbs And Spices.
Besides our award winning cinnamon and black pepper we have your other favorite herbs and spices: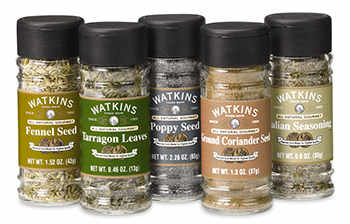 Allspice
Basil
Bay Leaves
Whole Black Peppercorns
Cajun Seasoning
Caraway Seed
Ground Cardamon
Cayenne Pepper - Cround Cayenne Red Pepper
Celery Salt
Celery Seed
Chili Powder
Chineses Five Spice Powder
Chopped Chives
Chipotle Chile Pepper
Cilantro
Saigon Cinnamon
Cinnamon Sticks
Ground Cloves
Cloves, whole
Ground Coriander Seed
Cream of Tartar
Cumin
Curry Powder
Fennel Seed
Garlic Granules
Garam Masala
Herbs de Provence
Italian Seasoning
Lemon Peel
Marjoram
Mint Flakes
Mustard, dry
Nutmeg
Whole Nutmeg
Onion Granules
Orange Peel
Oregano
Paprika
Smoked Paprika
Parsley
Poppy Seed
Red Pepper Flakes
Rosemary
Sesame Seed
Rosemary
Ground Turmeric
Thyme
Vanilla Beans
Ground White Pepper
Order your Watkins spices and other products in our safe, secure Watkins store, or request your free Watkins full product catalog and order by mail or phone.



With Watkins your satisfaction is always guaranteed or your money back!

Important Note: We appologise for the inconvenience, unfortunatley some of our pure herbs and spices may not be available yet in Canada. Share on Facebook


Note: Your customer account # and State/Province is optional, entering them will simply enable us to provide you with better service. I care about and respect your privacy.