Does Homemade Chicken Soup Really Help A Cold?
Does chicken soup really help you feel better when you have a cold? Generations of mothers and grandmothers swear that homemade chicken soup can cure a cold. Other experts aren't so sure so the jury is still out. Even if chicken soup isn't a magic cure, it's still a nutritious and delicious way to help you feel better.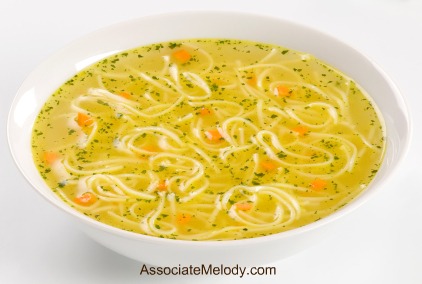 Did you know that chicken soup has been prescribed since the 12th century as a way to fight off illness? Jewish philosopher and doctor Maimonides used chicken soup to treat a variety of ailments besides the common cold, but he highly recommended it for colds and other respiratory illnesses. Chicken soup is commonly called "Jewish penicillin" because it has been used so often to treat colds.
Before this question can be answered, let's look at what goes into a pot of homemade chicken soup. Recipes will vary but most chicken soup recipes will consist of ingredients such as chicken, carrots, onions, garlic, egg noodles and seasoning in chicken broth.
If we look only at the items on the above list, we see that chicken supplies the body with zinc, carrots provide beta-carotene, onions and garlic are considered to be strong antivirals and egg noodles provide selenium. Each of these ingredients has medicinal qualities which, when combined, may provide the body with nutrients it needs to help fight off the common cold. *Source below.
While the medical community may not be able to agree on whether or not chicken soup can cure the common cold, they do agree that there are positive results from eating it. You should consider the following:
Soup is mainly liquid so it can help prevent dehydration often associated with illness.
The ingredients in the broth have been shown to have anti-inflammatory properties which can soothe a sore throat and help inhibit mucus production.
Steam from the soup loosens the congestion in your chest as well as loosening the mucus in the nose.
Homemade chicken soup doesn't cause anyone to get overly sleepy the way over-the-counter medicine can.
It provides the body with much-needed nourishment when the body is in a weakened state.
So, it would seem that chicken soup does provide some health benefits but the medical community isn't ready to start giving people prescriptions for it. One thing is for sure, even if it doesn't cure the common cold it sure tastes much better than traditional medicines which means no one will object to taking it. Why not try the easy recipe below?
Easy Homemade Chicken Soup
Does chicken soup really work against colds? There doesn't seem to be a definitive answer. It appears to help on some level so here is a quick and easy homemade chicken soup for you to make.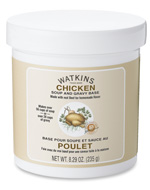 1 boneless chicken breast half, cooked and cubed
2 carrots, peeled and diced
2 stalks celery, sliced
1/2 onion, diced fine
1 clove garlic, minced
2 & 1/2 cups water
2 teaspoons Watkins chicken soup and gravy base
1 teaspoon Watkins black pepper
1/2 cup pasta or noodles, optional
Bring the water to a boil in a large pot. Add the cubed chicken and remaining ingredients and simmer for about 10 minutes until vegetable are tender and pasta is cooked. Add some extra black pepper as it can help relieve congestion and fever!

Did you enjoy this information? Do you know someone else who would enjoy it too? Why not email it to them! Please feel free to add this page to your bookmarks or favorites: or Share Thanks in advance for sharing this page with others, your referrals are much appreciated!
Are you new to Watkins?
You can shop for Watkins products in our safe, secure Watkins store or request your free Watkins full product catalog and order by mail or phone.



With Watkins your satisfaction is always guaranteed or your money back!


Note: Your customer account # and State/Province is optional, entering them will simply enable us to provide you with better service. We care about and respect your privacy.

Source: University of Nebraska Medical Center new release, Research hints that chicken soup remedy may have scientific validity in reducing cold symptoms.

The Federal Food, Drug, and Cosmetic Act requires the following statement: These statements have not been evaluated by the Food and drug Administration. This product is not intended to diagnose, treat, cure, or prevent any disease.