Watkins Health And Wellness Products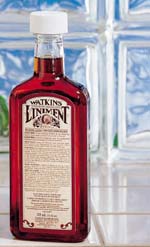 Famous for health and wellness for 140 years our original name was the J.R. Watkins Medicinal Company. Since 1868 when J.R. Watkins began making Watkins Vegetable Anodyne Liniment on a wood stove, our mission has been helping people feel better. Today Watkins health and wellness product line ranges from natural herbal remedies to registered drugs, from traditional to technological, but our commitment to you remains the same. Organic foods, heart healthy grapeseed oils, all-natural, non-toxic cleaning products, dietary supplements and much more. Watkins uses only the purest and the best natural ingredients that the world has to offer, creating a complete line of the high quality products to promote your optimum health and wellness.

Shop for Watkins Health Productsin our Watkins store or request your free Watkins full product catalog.

Browse through the health articles below or our article section.


Note: Your customer account # and State/Province is optional, entering them will simply enable us to provide you with better service. We care about and respect your privacy.
Featured Health Tips from Brenda Koth Watkins Health and Nutrition Advisor.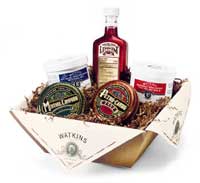 Choose the topic that interests you most:
Insect Repellent offers safe protection from West Nile Virus.
Uses For Petro Carbo The Drawing Salve
Aloe Vera: New Remedy for Oral Health Problems
Chocolate: Love Potion Goes Straight to the Heart.
Benefits of Grapeseed oil: Time for an Oil Change.
Grape News for Your Skin - Anti-Aging Treatment
Linimax: Thanks, I Kneeded That. Joint Pain Relief
Green Tea: It's in the Bag
Green Tea: Here's the Skin-ny on Tea
Benefits of Calcium: Bone Up and Burn Fat!
Fresh Wash: Here's the dirt on food!
Indoor Air Pollution: Here's the inside storyÉ
Peppermint Foot care: The Agony of De Feet
Vanilla Scents: Use Your Bean
CoQ10: A Perfect 10
The benefits of green tea just keep brewing. Besides offering protection from many types of cancer, recent studies show daily consumption of green tea may reduce the risk of Parkinson's disease and cut the chance of a heart attack nearly in half. It can make you look and feel better, too! It's been shown to reduce allergy symptoms, fight cavities, improve skin, and may even help to boost metabolism and fat-burning. And here's a real eye-opener, when you're done sipping, use the tea bags to reduce bags and puffiness under the eyes. Just chill the tea bags after brewing. When the bags are cool, lie down and place them on your undereye area for 10 minutes. Next, find out how green tea can help reduce the signs of aging!
*Use unflavored green tea, for application on undereye area.
Brenda Koth, MS, RD
Here's the Skin-ny on Tea!
If you read the last Health Tip of the Week, you know about the benefits of drinking green tea, such as reducing allergy symptoms and boosting metabolism. Even if you're not a tea drinker, you can still get the anti-aging benefits of green tea. Recent studies show that applying green tea directly onto the skin may help to reduce the effects of aging due to sun damage. In addition, skin treated with extracts of green tea showed less UV damage, less sunburn and greater protection from skin cancer, compared to skin not treated with green tea. Watkins offers a complete line of green tea products for your skin, including Aloe & Green Tea Hand & Body Lotion, Body Wash, Body Bar, aluminum-free Deodorant and Antibacterial Liquid Hand Soap. For optimal sun protection, try Watkins Aloe Vera Sun Block SPF-30 and Aloe Botanical Lip Balm SPF-23. If you happen to get too much sun, Watkins Aloe Vera Burn Cream provides soothing relief.
Brenda Koth, MS, RD
Add this page to your favorites,