Basic Cooking and Baking Equipment and Utensils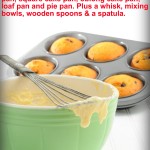 What are some basic cooking and baking equipment and utensils you need? Following is a list and some tips to help you get your kitchen equipped!
Basic pot set: Large pot for cooking pasta and boiling potatoes, medium and small saucepans, frying pans in at least 2 sizes.
Tip: Pots and pans with metal handles allow for more versatile cooking and movement between stovetop and oven. Just beware; they get hot, so use mitts!
Knife set essentials: 6-10 inch chef's knife, a small paring knife, and a serrated bread knife.
Essential kitchen prep tools: besides knives, you'll also need one or two cutting boards, a can opener, vegetable peeler, and a cheese grater.
Tip: Because cutting boards can absorb bacteria, it's a good idea to use a separate one for raw meats.
More tools for cooking: Strainer, tongs, spatula, salt and pepper shakers, oven mitts and storage containers.
Tip: Silicone oven mitts are more heat resistant and often have better grips than traditional oven mitts.
Basic baking equipment: Wet measuring cup, dry measuring cups, measuring spoons, baking sheets, muffin pan, square cake pan, oblong cake pan, loaf pan, and pie pan. Don't forget a whisk and/ or mixer, mixing bowls in various sizes, large mixing spoons, and a spatula.
For making pastry and biscuits from scratch you'll need a pastry cutter or food processor, glass mixing bowl and rolling pin.
Tip: Do your homework when shopping for kitchen essentials. Go for quality over price, but do keep your budget in mind.
No Comments Yet.