Coconut Curry Chicken with Rice
This Coconut Curry Chicken recipe makes a quick and delicious meal. Serve over white or brown rice. We love jasmine or brown basmati rice, what's your favorite type rice?
I'm always looking for sneaky ways to serve chicken breasts as hubby isn't a fan of them. He prefers dark meat with skin! This recipe was a hit, he loves curry, the tomatoes help tenderize the meat and the sauce keeps it moist. Chicken breasts tend to be drier than the legs and thighs.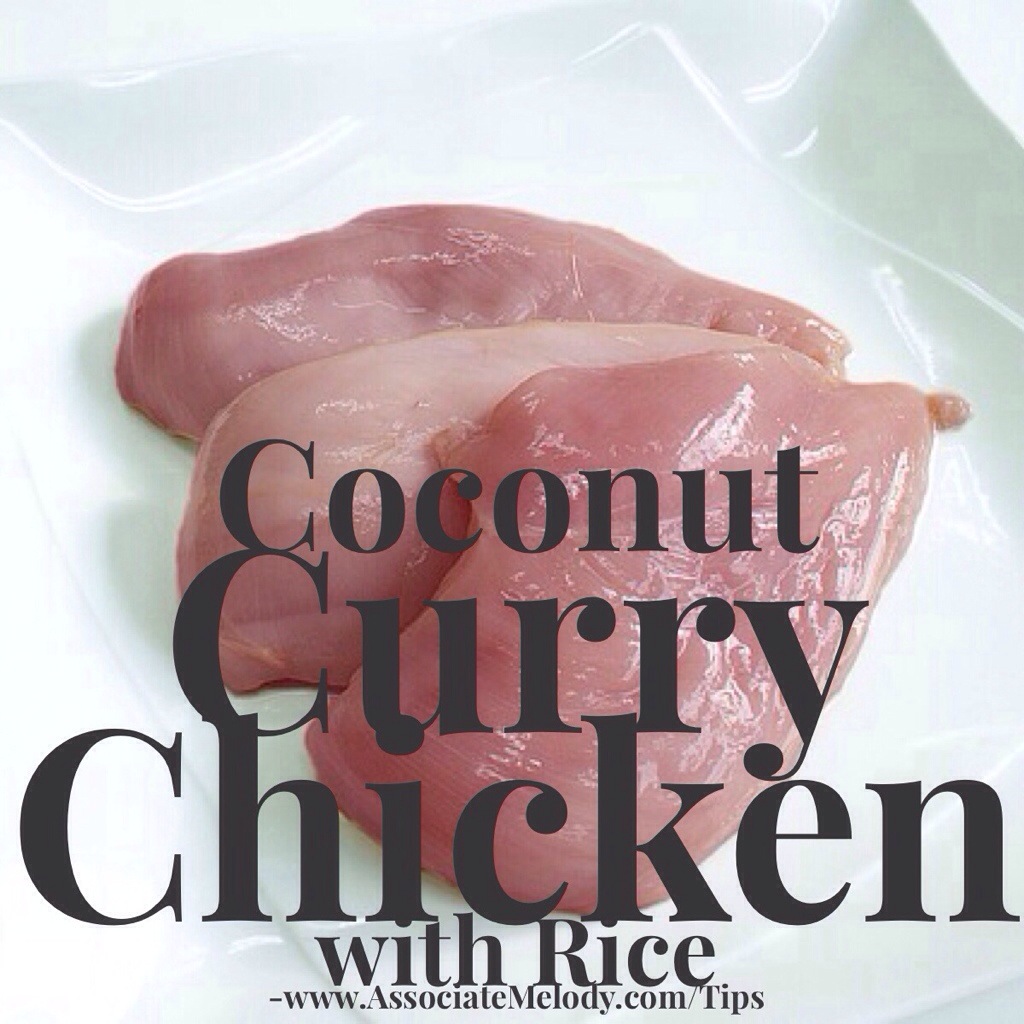 Ingredients
1&1/2 cups rice, (white or brown) cook as directed
2 tablespoon grapeseed oil
4 chicken breasts, cut into bite size pieces
2 medium onions, diced
2 cans chopped tomatoes (3-4 cups fresh, peeled & chopped, or 1 quart home canned)
½ cup coconut milk
1 tablespoon shredded coconut (optional)
1 tablespoon curry powder (or more if you like it hot)
black pepper, to taste
sea salt, to taste
Directions
Cook rice of your choice as per the directions on package.
In a heavy bottomed saucepan, heat the oil and sauté the onion until tender. Add the curry powder, stir and cook for a minute to bring out the flavor.
Add the chicken pieces and sauté until nearly done.
Pour the chopped tomatoes over the chicken, increase heat. Add the coconut milk, coconut, pepper and salt, simmer for about 15 minutes.
Serve over rice.
https://www.associatemelody.com/tips/coconut-curry-chicken-with-rice/
Copyright © Melody Thacker - All Rights Reserved
Tips: Coconut milk often separates, mix well before measuring and adding it. Or save some of the thick cream that rises to the top for another recipe.
When in season use fresh local grown organic tomatoes, for improved taste and nutrition. To peel them place them in boiling water for a minute or two then plunge them in cool water to cool. The skin will slip right off.
How do you like your curry, mild or hot? Do tell, we'd love to know! Comment below!
No Comments Yet.