Create A Thanksgiving Dinner Your Whole Family Will Love

How To Create A Thanksgiving Holiday Dinner Your Whole Family Will Love
Your guide to planning, simplifying and preventing disasters for a stress-free thanksgiving dinner including menu and recipes.
Thanksgiving is one of my favorite holidays! Whether you wish to create traditions that your children will remember all their lives, or you wish to simplify your own wonderful holiday traditions this guide including menu ideas, recipes, and tips will help you create a holiday dinner your whole family will love.
Food is, of course, the main focus of the Thanksgiving Day holiday so you'll find some easy and tasty recipes plus traditional and vegetarian menu ideas. You'll even find out how to avoid the most common Thanksgiving dinner disasters!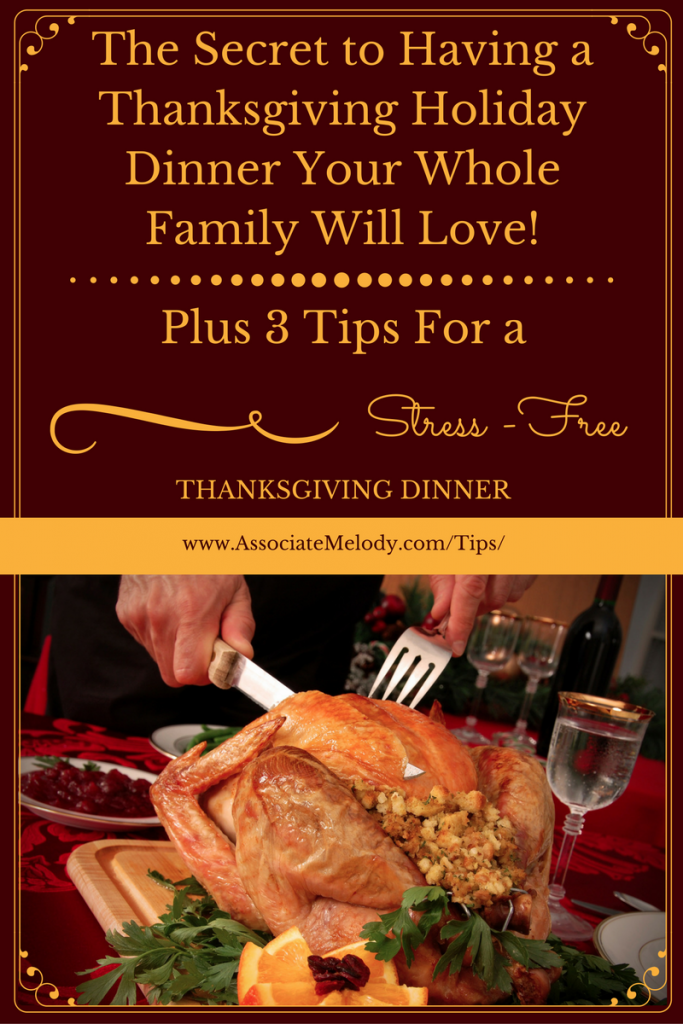 Thanksgiving Dinner Menus
No Thanksgiving dinner is complete without a turkey, right? That's generally how many North Americans feel. However, some people have smaller family dinners, health concerns or prefer not to eat meat. So, you'll find a traditional Thanksgiving dinner menu, a menu for smaller families, and a vegetarian dinner menu that doesn't involve tofu turkey!
Traditional Thanksgiving menu
Maple Roasted Turkey, recipe below or
Mashed Potatoes
Turkey Gravy
Cinnamon Yams
Cranberry Relish or Cranberry Sauce
Spicy Greens Salad, recipe below
Maple Roasted Turkey
1 cup of maple syrup
1/4 cup hot water
1 turkey
Watkins Grapeseed oil
Watkins onion and garlic pepper
Rub the turkey with grapeseed oil and onion, garlic pepper. Roast turkey following your turkey growers cooking guidelines, baste the turkey every 30 minutes with the following glaze. In a small mixing bowl, whisk together maple syrup and hot water until it becomes a thin glaze. If the legs or breast brown too quickly because of the sugar content, cover them with foil. When your turkey is done, transfer it to a cutting board and let rest for about 20 minutes before carving.
Cinnamon Yams
Traditional yam or sweet potato recipes call for tons of brown sugar mixed with sweet potatoes and topped with marshmallows. For a slightly healthier twist on the traditional, mix your mashed yams or sweet potatoes with a tablespoon or two of butter, 1 teaspoon of Watkins cinnamon and a tablespoon or two of brown sugar. No marshmallows required!
Cranberry Relish
This is a quick and easy recipe that I love. It marries the flavors of cranberry and orange for a delightful zing. Mix 1 pound of cranberries (fresh or frozen), 1 cup of sugar, 1 tbs of orange juice and 1 tsp of orange zest into a food processor. Pulse until the mixture is blended but still chunky. Cover and let sit until you're ready to serve.
Small Gathering Thanksgiving Menu
Cranberry Glazed Turkey Breast, recipe below
Whipped Mashed Potatoes
Turkey Gravy
Green Beans
Spicy Greens Salad, recipe below
Cranberry Glazed Turkey Breast
1 whole, fresh turkey breast, about 3 pounds
1 tablespoon Watkins grapeseed oil
1/2 teaspoon Watkins onion pepper
12-ounce bag of cranberries
2 teaspoons orange zest
1 cup sugar
1/4 cup orange juice
1 1/4 cups water
Watkins turkey gravy mix
Prepare glaze, blend the cranberries, orange zest, sugar, orange juice and water in your food processor until the mixture resembles a glaze. Place mixture into a saucepan and bring to a boil. Let simmer for 5 minutes until thickened, strain if desired and allow to cool.
Rinse the turkey breast under cold water. Use a paper towel to dry the turkey. Rub the turkey breast with grapeseed oil being sure to completely cover on all sides. Place the turkey breast in a small roaster pan. Sprinkle the pepper over the turkey. Preheat the oven to 400 degrees F. Place the turkey breast in the heated oven. Allow the turkey breast to roast 20 minutes. Reduce the temperature to 350 and continue roasting for 1 1/2 hours. 30 minutes before the turkey breast is done and it is beginning to brown, glaze the breast with 1/3 cup of the cranberry glaze. Cook the turkey until it reached an internal temperature of 165 – 179 degrees or until juices run clear when poked with a fork. Prepare turkey gravy as directed on the label. Let the turkey breast stand 15 minutes before carving. Serve the carved breast with the remaining glaze and turkey gravy.
Spicy Greens Salad
Mix together your favorite spicy fresh greens. Consider arugula, escarole and mustard greens. Heat 1/4 cup Watkins grapeseed oil, add 1 clove of minced garlic cook over medium heat for 2 to 3 minutes. Let cool, whisk 1/3 cup balsamic vinegar into the oil and garlic mixture, salt and Watkins black pepper to taste. Lightly dress greens and enjoy!
Vegetarian Thanksgiving Menu
Potato and Pumpkin Pie, recipe below
Spicy Greens Salad, recipe above
Sourdough Dinner Rolls
Pumpkin and Potato Pie
1 3 pound pumpkin
2 large russet potatoes
1 deep dish pastry shell, homemade or ready made
2 cups of chopped onions
2 minced cloves of garlic
1 1/2 cups of corn
1 tablespoon of Watkins grapeseed oil
2 cups of grated Monterey jack cheese
1 tsp Watkins dried thyme
Watkins sea salt and black pepper to taste
Scrub potatoes, cut the pumpkin in half and remove seeds. Roast pumpkin and halved potatoes in a 400 degree F oven for one hour. Let cool and dice pumpkin and potatoes into 1/2 inch cubes. You can make the pie dough yourself or buy premade deep-dish piecrust. Sautee onions, garlic and 1 1/2 cups of corn in grapeseed oil. Mix potatoes, pumpkin, and sauteed onion mixture together. Add Monterey Jack cheese, thyme, salt and pepper to taste. Spoon mixture into pie crust and bake at 350 degrees F for 30-40 minutes.
I use and recommend Watkins spices and seasonings. Shop for all your gourmet ingredients for the best tasting Thanksgiving dinner ever here.
Thanksgiving Dinner Disaster Prevention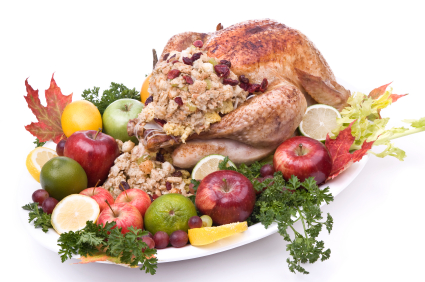 Many Thanksgiving dinner disasters center around cooking the turkey. Almost everyone I know has had their oven quit working in the middle of roasting their holiday turkey. Every year we hear about people becoming ill after eating improperly prepared or stored turkey. If the thought of placing a 15-pound bird in your oven sends you to your local grocery for an already cooked version which is rarely a tasty solution, or to your neighborhood restaurant read on. You'll find some helpful advice and tips to ensure your dinner is safe and deliciously prepared.
Thawing Your Turkey: There are three ways to safely thaw your turkey; in the refrigerator, in cold water or in the microwave oven. The best method is to thaw in the refrigerator at 40 deg F or below, allow approximately 24 hours for every 4 to 5 pounds. Keep the turkey in its original wrapper. Place it on a tray or in a pan to catch any juices that may leak. A thawed turkey can remain in the refrigerator for 1 to 2 days. If necessary, a turkey that has been properly thawed in the refrigerator may be refrozen.
Roasting Your Turkey: Set your oven temperature no lower than 325 deg. F. Place your turkey or turkey breast on a rack in a shallow roasting pan. A whole turkey is safe when cooked to a minimum internal temperature of 165- 180 deg F as measured with a food thermometer. Check the internal temperature in the innermost part of the thigh and wing and the thickest part of the breast. For reasons of personal preference, you may choose to cook your turkey to higher temperatures.
Smoking, frying, grilling, and otherwise cooking your turkey: There are a number of ways to cook a turkey and in an attempt to find easier and tastier ways to cook a turkey, these methods often lead to extreme accidents. The instance of household fires related to turkey fryers is proof enough. Regardless of how you plan on cooking your turkey this year, the important thing is to pay attention. Nearly 100% of the accidents, injuries, and downright awful turkeys result from people walking away from their turkey and not paying attention.
Safe Handling For Your Leftover Turkey: just as important as thawing your turkey correctly, immediately storing your cooked turkey, and other leftovers in the fridge after the meal will prevent spoilage and food bourne illnesses. If you stuffed your bird, when you carve it remove all the stuffing. Be sure to store any leftover stuffing in a covered container in the fridge. To save space, after dinner remove any remaining turkey meat from the carcass and place it in a covered container in the fridge. Discard the carcass or store in the refrigerator or freezer to make soup at a later date.
Another difficult Thanksgiving task is making the gravy. Lumpy gravy can be resolved by pouring it through a strainer into a clean pan and reheating. Burnt gravy can occasionally be rescued by pouring the gravy into a new pan, careful not to scrape the burnt stuff off of the bottom of the old pan. The majority of the burnt taste should stay in the old pan. If making gravy is a big challenge for you, Watkins gourmet turkey gravy is your solution. This quick to fix mix makes a delicious turkey gravy that tastes exactly like homemade.
Three Tips For A Stress-Free Thanksgiving Dinner
Why do people always get stressed at the holidays? Is it the rush to get everything done? Or is it wanting everything to be "perfect"? Most likely it is a combination of things. Here are a few simple tips to help you have a more enjoyable and stress-free Thanksgiving dinner.
Plan ahead – While planning the Thanksgiving meal, write up your shopping list at the same time you write out your menu. Do your shopping several days in advance so that you'll have all the ingredients you need on hand the day you cook.
Go Potluck – If you are having a large group get together for Thanksgiving dinner, divide the menu amongst all those attending. You can provide the main dish, such as the turkey. Each family can bring a favorite side dish or dessert. To make sure there is a variety, provide a menu and mark things off as people chose what they want to prepare.
Simplify – Instead of having a huge feast, why not prepare fewer dishes or a smaller meal? We all tend to overeat at Thanksgiving, so make an effort to make fewer dishes. Not only will the preparation be smaller, so will everyone's waistlines. Another option is to prepare as much ahead of time as you can. Slow cookers can be used to make all kinds of foods, even desserts. Many things can also be made as "freezer meals" and stored for weeks before reheating them. The less actual cooking you need to do on Thanksgiving, the lower your stress levels will be.
If you stop to smell the turkey and plan ahead, you can have a wonderful Thanksgiving. Planning and organization, while not great fun, can help you enjoy things later once all the guests arrive.
Thanksgiving is a day to spend together with the important people in your life; enjoy the company, along with good food, laughing and loving. If you enjoyed these menus, recipes, and tips please bookmark, add this page to your favorites and share it with your friends.
No Comments Yet.