Hot Spiced Cider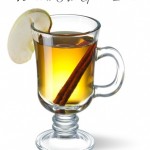 When you're entertaining for the holidays or when the weather is cold, stir up a batch of this nicely spiced hot apple cider. The wonderful aroma will fill your home and make your guests feel welcome on a chilly day.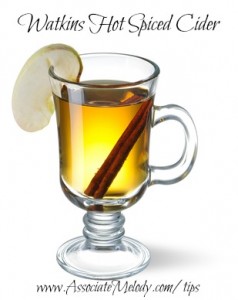 Ingredients:
1 gallon apple cider or apple juice
1 cup orange juice
1/4 cup  maple syrup
1/2 teaspoon Watkins Orange Extract
1/2 teaspoon Watkins Lemon Extract
4 Cinnamon Sticks
2 teaspoon Watkins Whole Cloves
1/2 teaspoon Watkins Allspice
Directions: Heat cider, juice, maple syrup and spices in a large pot over medium heat. The spices can be placed in a cheesecloth bag for easier removal. Simmer for five to ten minutes, turn off the heat, stir in extracts and remove spices.
Serve hot or warm in a mug or heatproof glass, garnish with a cinnamon stir stick and apple slice, if desired.
You'll find Watkins spices and extracts here.
No Comments Yet.