How To Quickly and Easily Clean and Deodorize Your Microwave
We use our microwave oven for reheating and cooking every day. This constant use means it needs a good cleaning regularly. Here's how to easily clean a microwave and deodorize it too.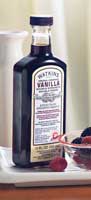 In a microwave-safe container add 2 cups of water and 1 teaspoon of Watkins vanilla extract, place it in the microwave and heat on high power for four to five minutes. Leave it sit for a couple of minutes to allow the steam to work. Then remove the container and wipe down the interior of the oven with a damp cloth. Any food splatters should wipe right off, and the interior will smell sweet and clean.
How do I clean a greasy microwave oven? Simply use a small amount (less than a teaspoon) of Watkins degreaser on your damp cloth. It will safely cut through the grease without toxic chemicals or fumes.
Learn some more uses for vanilla extract.
You can order these great products right here.
Did you find this tip helpful? Do you have your own tip for cleaning a microwave? Share it in the comments, we'd love it if you do!
No Comments Yet.