Quick As a Mix Chocolate Sour Cream Cake

I've been on the hunt for the perfect chocolate cake recipe that is quick and easy to make and this chocolate sour cream cake is it! It's as quick as a mix to bake but without all those strange ingredients they add to commercial mixes.
The ingredients are simple, and so is the method. Dump equal portions of flour, sugar, and sour cream, plus eggs, cocoa, vanilla, and baking soda into the bowl and mix it up.  Most cake recipes call for butter, shortening or some type of fat, the sour cream in this recipe provides all the fat needed for a moist, delicious, tender cake.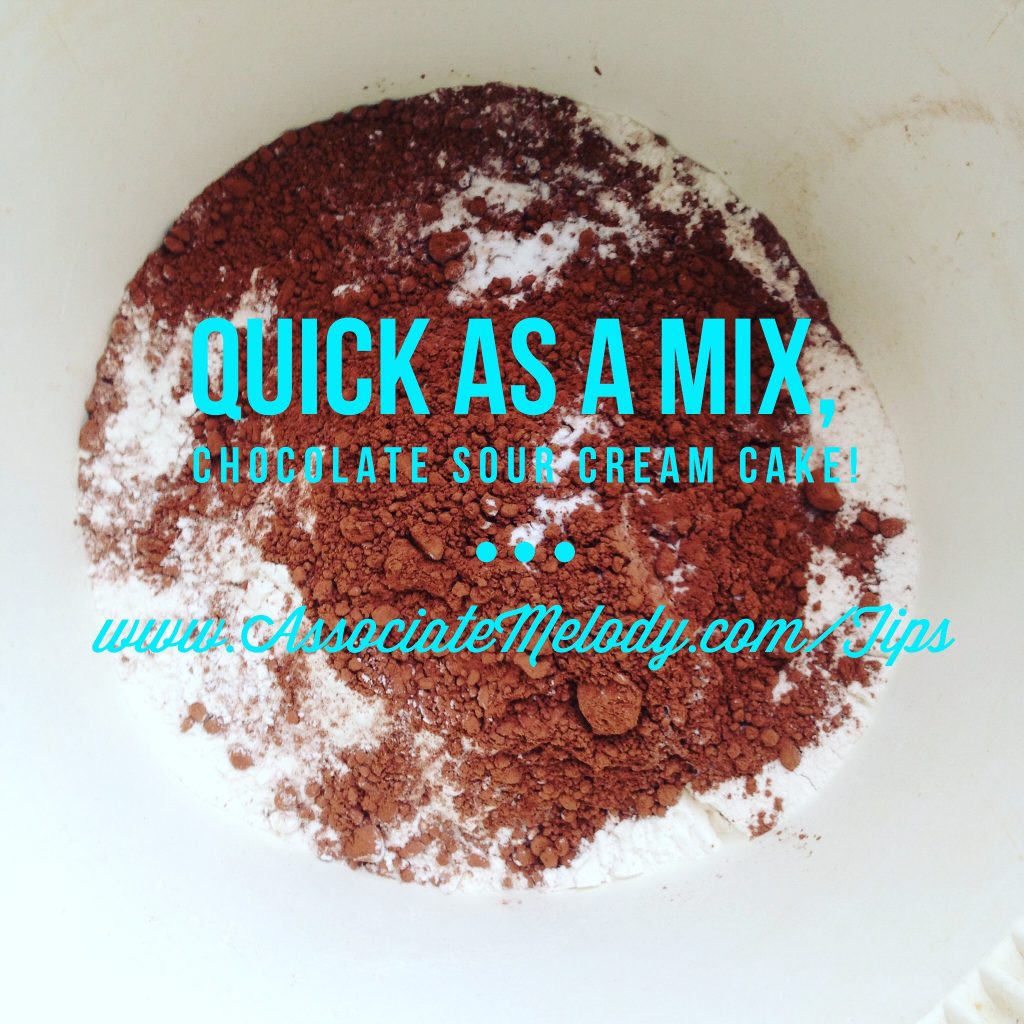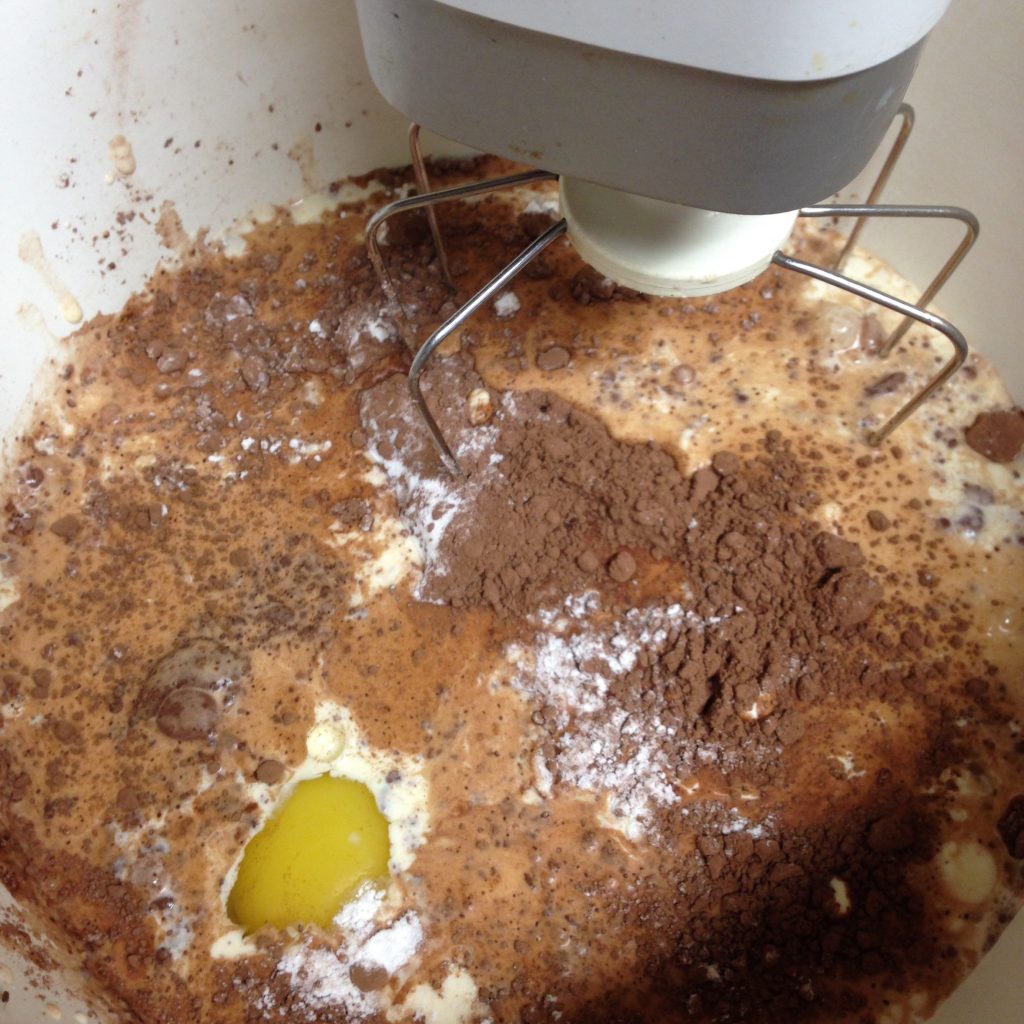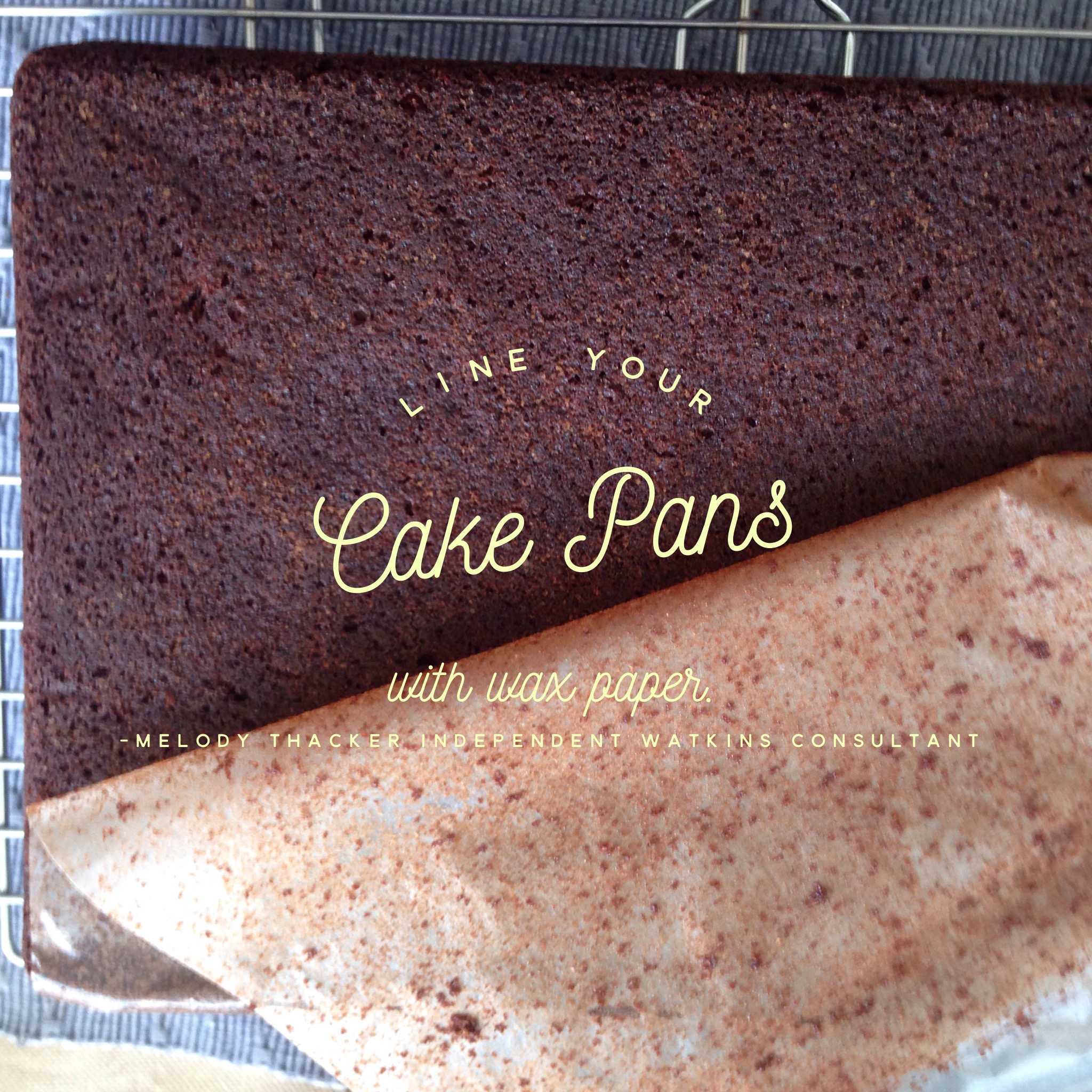 So here's the recipe and some bake baking tips for you!
Quicker Than a Mix Chocolate Cake
Ingredients
2 cups sugar
2 cups flour, all purpose
1/2 teaspoon salt
1/2 cup cocoa
2 teaspoons baking soda
1 teaspoon Watkins Baking Vanilla
2 eggs
2 cups sour cream
Directions
In a large mixing bowl, add all ingredients at once.
Mix until batter is smooth, but don't over mix!
Grease and flour an 9 by 12 inch pan, or line the pan with wax paper.
Add batter to pan.
Bake at 325 for 30-35 minutes until done.
Cool in the pan for 10 minutes, then on a wire rack for 30 minutes.
https://www.associatemelody.com/tips/quick-as-mix-chocolate-cake/
Copyright © Melody Thacker - All Rights Reserved
Frost as desired. We like it with chocolate buttercream icing but you can serve it with a dollop of whipped cream, a scoop of ice cream or decorate it with a sprinkle of icing (confectionary) sugar.
This chocolate sour cream cake recipe may be cut in half and baked in an 8-inch square cake pan. Remember to reduce the baking time by 5 minutes or so.
Here are a few cake baking tips for you:
To make it easy to remove your cake from the pan, line your baking pan with wax paper or parchment paper. I use wax paper because that's what my Mom used.
For evenly baked cakes with a level top use an insulated baking pan. They are well worth the investment.
To see if your cake is perfectly baked, slip a toothpick or cake tester straight down into the cake center and pull up the same way. If any batter sticks to the toothpick, your cake is not done yet.
When frosting a cake, make sure you cool it completely and brush any loose crumbs from its surface with a soft pastry brush. Always frost the sides before the top.
To keep your plate clean when frosting a cake, slide strips of wax or parchment paper under the edges. The strips will be easy to pull away from the cake when you have finished, and you won't damage the icing or cake.
If you use pure vanilla or another brand increase the vanilla to 2 teaspoons. Watkins baking vanilla is concentrated so you'll need to use more if you use another type.
You can add 1/2 – 1 teaspoon of Watkins other extracts such as coffee, orange, hazelnut, mint, cherry or raspberry to the chocolate sour cream cake and/or frosting to give it a different flavor!
In many recipes for baked goods, you can substitute yogurt, sour milk or buttermilk for the sour cream. It's the acid and baking soda that the leavening agents or makes it rise.  I haven't tried it with this one, I suspect you won't get the same moist, tender results because of the lower fat content. If you try it let me know. I always seem to have fresh cream that goes sour on it's own before we use it up or commercial sour cream that needs to be used up.
I'd love to know if you try my recipe for chocolate sour cream cake and how you like it!
No Comments Yet.