Real Peanut Butter Cups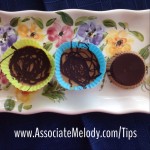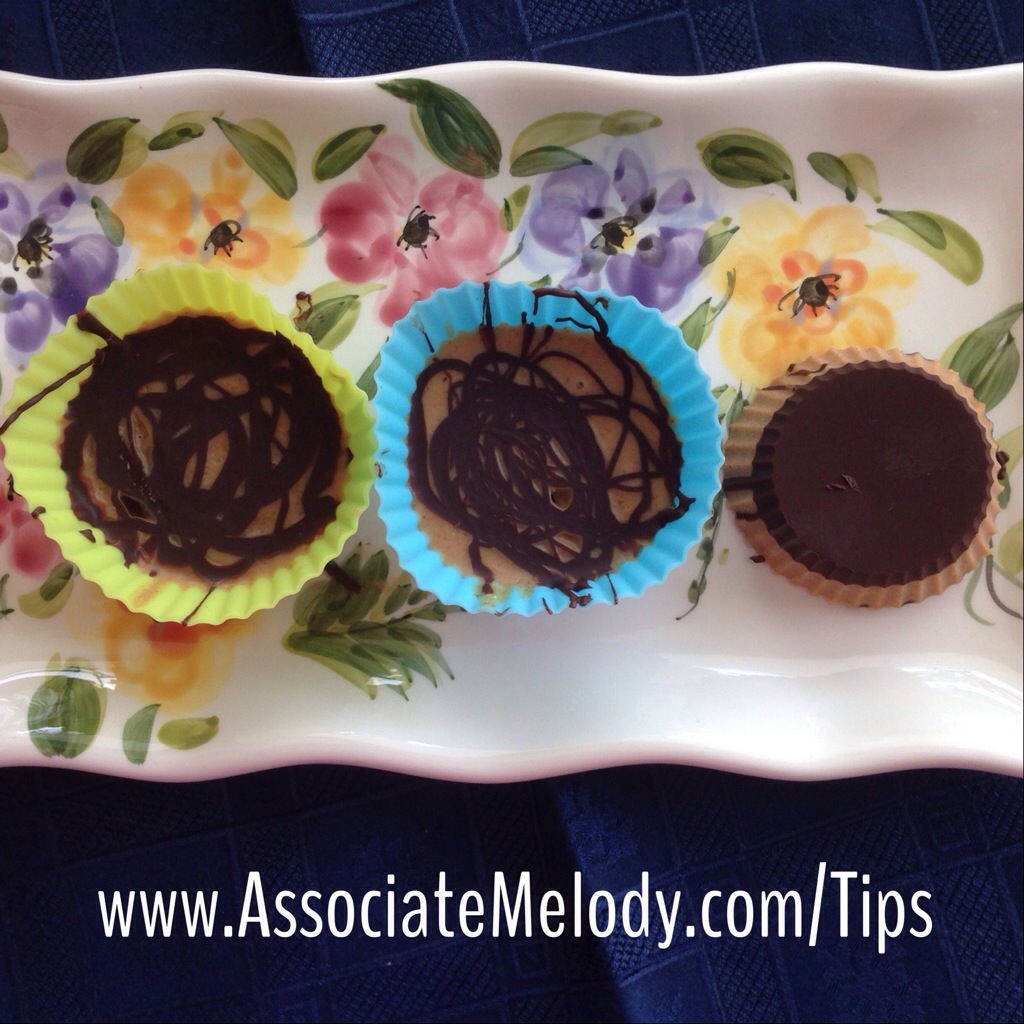 Ahhh, who loves chocolate and peanut butter?  Made with natural ingredients these peanut butter cups are the real deal! These treats are easy to make and healthier than those famous cups.
I used silicone muffin liners so it was easy to pop each cup out of the mold. Paper cupcake or muffin liners would work too.  I was a bit impatient when I made the ones shown in the photo, the peanut butter filling was still very soft when I tried to pour on the chocolate tops.  I recommend storing them in the fridge or freezer. Bring them out just before serving other wise the chocolate and filling will get soft and melty. You may want to keep them well hidden, if you are making them for a special occasion!
Ingredients
3/4 cup of natural peanut butter, roasted and salted if desired (or use nut butter of your choice)
2 tablespoons honey (or to taste)
1 teaspoon vanilla
1/4 cup of coconut oil
4 ounces of semi-sweet chocolate
Directions
Chop chocolate into small pieces and place in the top of a double broiler. Or you may use a heat-proof bowl that fits on top of your pan. Bring about 2 inches of water to a boil in the pan and place the bowl on top.
Watch the chocolate carefully so that it doesn't burn, stirring gently while the chocolate melts. When there are just a few chunks left in the chocolate, remove from heat, stir and allow it to melt completely.
Line muffin pan with paper or silicone liners. Drop a spoon full of melted chocolate into each muffin cup. Tilt pan to spread and cover the bottom. Use a little less than half the chocolate. Place muffin pan in the fridge or freezer to harden the chocolate.
In a small bowl combine the peanut butter, coconut oil, vanilla, and honey. Mix until well combined.
Drop by the heaping teaspoon into mini cupcake pans. Place in freezer to firm up.
Place remaining chocolate over hot water to melt again.
Drop or drizzle by the teaspoon the remaining chocolate over the peanut butter mixture and place back into the freezer. Freeze for 15 minutes.
Remove peanut butter cups from pan using a butter knife pop them out.
Store in the freezer or refrigerator in a covered container.
Notes
Melt coconut oil to ease mixing with peanut butter.
Silicone molds or muffin liners work wonderfully for these. Muffin pan may be lined with paper liners. Or these can be made in a pan and cut into squares once they've firmed up.
https://www.associatemelody.com/tips/real-peanut-butter-cups/
Copyright © Melody Thacker - All Rights Reserved
Peanut butter cups are the perfect no bake snack or dessert.  Feel free to modify the basic recipe to suit your taste.  If you use another nut butter, you may need to add more honey as peanuts are naturally sweet.
Let us know if you try the recipe and how you like it!
No Comments Yet.