Strawberry Honey Fruit Dip

Fresh fruit is a healthy, delicious snack or dessert on its own but it's even better with dip! One of our favorites is strawberry honey fruit dip. This cream cheese fruit dip recipe calls for strawberry extract but you can make different flavors by substituting other extracts. For example, you can make an orange fruit dip by swapping out the strawberry for orange extract.
If you want to encourage your family to eat more fresh fruit and berries serving this dip is the perfect solution! It's great for snacks, packed lunches, and an easy make-ahead dessert.  This strawberry honey fruit dip also perfect for parties, barbecues, pot-lucks and whenever you're entertaining.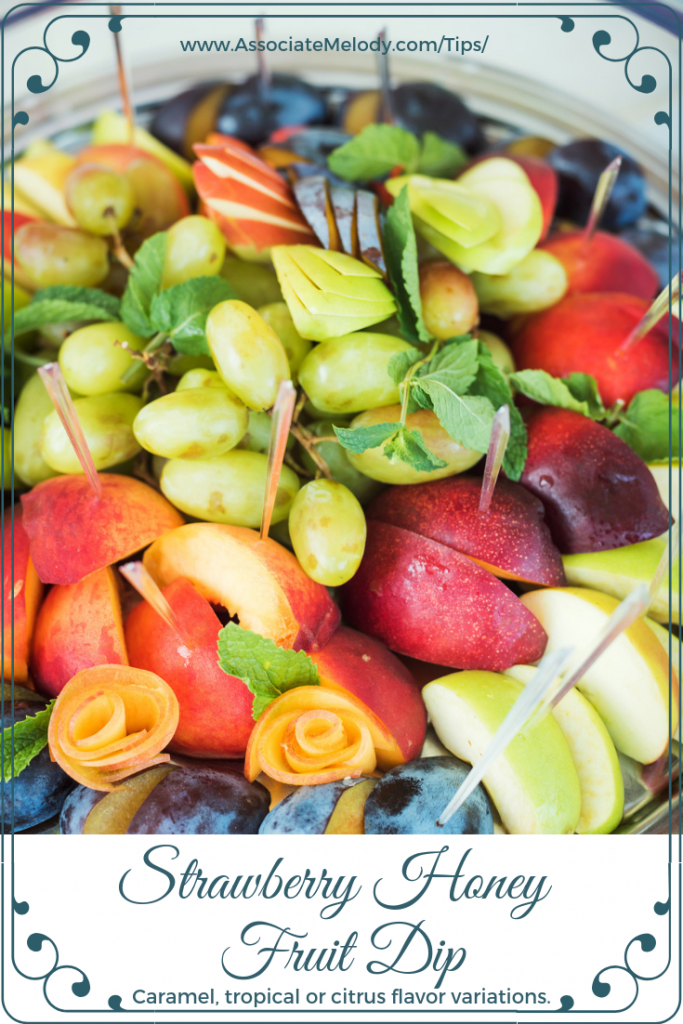 Watkins Strawberry Honey Fruit Dip Recipe
Here's how to make fruit dip!
Ingredients:
8 oz. cream cheese, softened
1/4 cup honey
1 teaspoon Watkins Vanilla Extract
2 teaspoon Watkins Strawberry Extract
1/4 cup yogurt, plain unsweetened
2 drops of Watkins natural, red food coloring if desired
Strawberry Honey Fruit Dip Directions:
Beat all ingredients together with an electric mixer until smooth and well blended. Chill and serve with fresh fruit of your choice.
Calories 51 for one tablespoon
Total Fat 3.6g
Saturated Fat 2.3g
Cholesterol 12mg
Sodium 33mg
Total Carbohydrate 3.7g
Total Sugars 3.5g
Protein 1.1g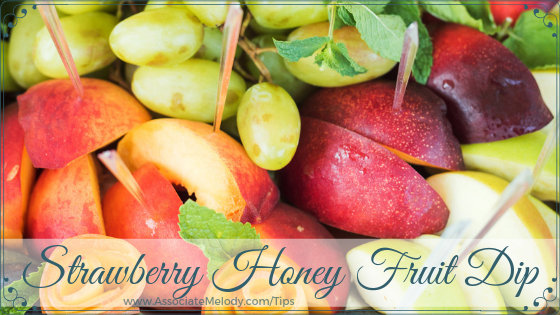 This dip tastes wonderful with any type fresh fruit and berries including; apples, pears, plums, peaches, melons, grapes, strawberries, pineapple, mango, oranges, dragon fruit, cherries, kiwis and more. Firmer fruits are easier to dip.
Tips:
If you find the dip to be too thick beat in a tablespoon or more yogurt until it's the desired consistency.
This dip makes a delicious fruit salad dressing too.
To reduce the calories you can use low-fat cream cheese and yogurt.
Orange Fruit Dip or Citrus Honey Fruit Dip
We used to have a lovely mandarin orange fruit dip mix, people still ask me for it occasionally so this is as close to it as I can come to it.  Replace the strawberry extract and/or vanilla with pure orange extract, or pure lemon, or pure lime or any combination of these citrus extracts.
Caramel Honey Fruit Dip
Substitute 1 teaspoon caramel extract for the strawberry and add 1 tablespoon of brown sugar along with the honey.
Or try our popular Carmel Apple Fruit Dip recipe here. (Warning, this caramel dip is addicting!)
Cherry or Raspberry Honey Fruit Dip
Substitute cherry or raspberry for the strawberry extract.
Tropical Coconut Rum Fruit Dip
Replace the strawberry extract with coconut and the vanilla with rum extract for a tropical-inspired dip.
I hope you enjoy this easy fruit dip recipe, do let us know if you try it and which flavor variation you made!
In order to be completely transparent, you should know that I'm an Independent Watkins Consultant and if you purchase through me I will earn a commission. I joined Watkins because I love, love, love the products. Plus I enjoy sharing good things with my friends. You can see all Watkins products including extracts, natural food coloring, organic spices and more here. 
Ingredients
8 oz. cream cheese, softened
1/3 cup sugar
1 tsp. Watkins Vanilla Extract
2 tsp. Watkins Strawberry Extract
4 tbs. sour cream
2 drops of Watkins red food coloring
Directions
Beat all ingredients together with an electric mixer until smooth and well blended.
Chill and serve with fresh fruit of your choice.
https://www.associatemelody.com/tips/strawberry-honey-fruit-dip/
Copyright © Melody Thacker - All Rights Reserved
This recipe is featured on Linda's Making a Home Homemaking Link Up.
No Comments Yet.