Vegetarian Fourth of July Picnic Ideas
The great American Fourth of July picnic, with its traditional foods like grilled hot dogs, hamburgers, and fried chicken, is something vegetarians can enjoy participating in, too. Here are some ideas for making your Fourth of July very vegetarian.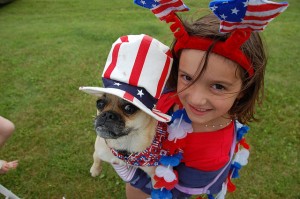 The Grill
The outdoor grill is actually very conducive to preparing vegetarian fare. There is quite an array of pre-prepared, frozen burgers made from vegetable protein available in grocery stores. There are also hot dogs made from soy protein. Perhaps even more satisfying is making your own veggie burger patties and grilling them outside. There are many recipes online and in vegetarian (and conventional) cookbooks. Home-made black bean burgers are especially good on the grill.
Grilled vegetables are versatile and tasty. Corn, zucchini, summer squash, onions, and bell peppers are all in season around July 4th, so use them liberally. You can prepare the vegetables simply by brushing them with olive oil as they grill and sprinkling on salt and pepper to taste, or get more elaborate and marinate sliced vegetables for a few hours before grilling.
Salads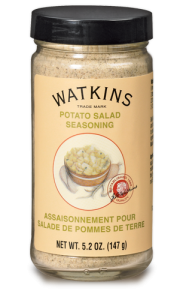 Potato salad is a mainstay of picnics as are pasta salads or pack a crisp green salad for your meal. Using a seasoning mix like Watkins Potato Salad Seasoning makes it quick and easy to whip up a tasty salad.
Sandwiches
Some vegetarians eat eggs. If that describes you, why not make egg salad sandwiches for your picnic? If you don't eat eggs, consider substituting firm tofu, chopped, for the eggs in your favorite egg salad recipe.
Try using TVP, or textured vegetable protein, in place of ground meat in a traditional "sloppy joe" recipe.
Baked Beans
You don't need pork to make excellent baked beans. You can take a shortcut and heat up a can of vegetarian baked beans from the store, or make your own. Combining ketchup, mustard, molasses, brown sugar, garlic and onion powder with a little water makes a tangy, flavorful sauce for cooked beans.
Dessert
It has been said that chocolate cake should replace apple pie as the symbol of Americana. Chocolate, after all, was not known in Europe until Columbus brought it back from the Americas, whereas apple pie had been made in Europe for generations.
So, if you really want to celebrate with a truly American dessert, go for a vegetarian chocolate cake. There are various recipes for chocolate cake without eggs or milk which are worth a try. Why not make a vegetarian chocolate sheet cake, top it with dairy-free whipped topping, and arrange blueberries and cherries (or strawberries) on the top to make an American flag?
Pizza
Okay, so pizza didn't originate in America – but no one has taken the pizza idea and run with it like Americans have. Although some vegetarians eat dairy products, pizzas do not have to have cheese (or you can use soy cheese). You could top a home-made pizza dough with some of those grilled veggies mentioned above. Grilled onions and bell peppers with roasted garlic and fresh tomatoes would make a very good pizza.
Photo credit: MarkelConnors via photopin cc