Watkins Gluten Free Food Products
Gluten is a protein found in many grains, including wheat, rye, barley and oats as well as in many types of vinegar. A number of people have an allergy or intolerance to gluten in particular people with Celiac Sprue Disease. Celiac Disease seriously affects the digestive system of people who suffer from it. They find it increasingly difficult to absorb the vital nutrients from the foods they eat, and their condition worsens the more food they consume that contains gluten.
Watkins recognizes that for people who suffer from this disease, label reading becomes an integral part of their grocery shopping - so we've made it easier for you to shop in your Watkins store! The products listed below do not contain any known gluten from raw materials. However, they have not been officially tested so please use this as a guide only.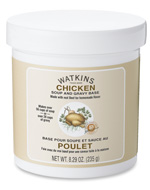 Watkins All Natural Grinders
Watkins All Natural Seasonings
Watkins All Natural Pure Extracts
Watkins Black Pepper
Watkins Cinnamon
Watkins Cooking Spray
Watkins Natural Pure Vanilla Extracts
Watkins Natural Gourmet Extracts and Flavorings
Watkins Natural Gourmet Seasoning Blends
Watkins Cooking Spray
Watkins Original Grapeseed Oil
Watkins Garlic and Parsley Grapeseed Oil
Watkins Beef Soup Base
Watkins Chicken Soup Base
The products listed below contain distilled white vinegar or vinegar solids. These items are no longer available to purchase on my website but your may still have them or come across them elsewhere. Our supplier has stated that "to the best of our knowledge, no gluten is present" in the distilled white vinegar used by Watkins. However, we provide this list as a service to those who choose to avoid vinegar.
Barbecue Sauce
Meat Magic
Steak Sauce
Is Watkins Vanilla extract gluten free? Our Pure Vanilla Extract is listed above. Watkins uses grain based alcohol in our Original Double Strenth Vanilla which may or may not contain traces of gluten so we cannot state this vanilla is gluten free.
Are Watkins personal and body care products gluten free? At this time we haven't tested the Personal Care products for Gluten, so we are not able to state if these products do contain Gluten or not.
Every effort is made to ensure this list is accurate and up to date however to be safe, you should to check the ingredient list for each product in the online store, in particular those with muliple ingredients.
Order your Watkins spices and other products in our safe, secure Watkins store, or request your free Watkins full product catalog and order by mail or phone.



With Watkins your satisfaction is always guaranteed or your money back!

Did you find this page helpful? If so please feel free to recommend it by e-mail, add it to your browser favorites or share it with your friends


Note: Your customer account # and State/Province is optional, entering them will simply enable us to provide you with better service. We care about and respect your privacy.