How To Go Gluten Free
Do you wonder how to go gluten-free? The first question is, "Should you choose a gluten-free diet?" Many people these days are eating a gluten-free diet because of health concerns. Gluten is a protein found in many grains, including wheat, rye, and barley as well as in many types of vinegar. A number of people have an allergy or intolerance to gluten. For people with Celiac Sprue Disease gluten seriously affects their digestive system. They find it increasingly difficult to absorb the vital nutrients from the foods they eat, and their condition worsens the more food they consume that contains gluten.
How to Go Gluten-Free without Losing Out On Flavor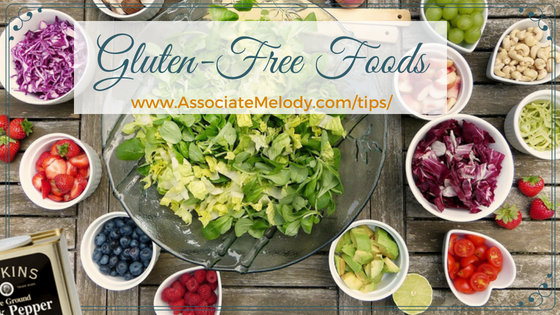 Whether you have a severe condition like celiac or decide to go gluten-free to feel better it can be daunting, to think about giving up all those wheat-based cereals, crackers, cookies, and breads we so love. But gluten-free cooking can be very flavorful, and many foods are naturally gluten-free. Thanks to increased awareness and the popularity of gluten-free diets there are entire aisles in many grocery stores dedicated to gluten-free foods. Here are some tips on going gluten-free without sacrificing flavor.
Flour
If you make your own gluten-free foods, you will need to prepare food without wheat flour. Once again, this does not mean bland and flavorless. Beans and nuts can be ground into flour, as can alternative grains such as rice. You can also purchase pre-ground, gluten-free flours. Here is a partial list of grains you can eat on a gluten-free diet:
Buckwheat
Corn
Amaranth
Quinoa
Millet
Oats (see Quick Tip #3 below)
Teff
Rice
There are also non-grain-based flours made from nuts, beans, potatoes, seeds (such as flax seeds), and even tapioca.
Bread
Yes, you can bake gluten-free bread. Look for a comprehensive, gluten-free bread cookbook and experiment. You can also bake flatbreads that are gluten-free using almond flour, flax meal, and/or rice flour. Some gluten-free recipes contain a large number of eggs to make the bread pliable and puffy.
Substitutions
You may be able to make gluten-free adjustments to your favorite recipes. If you have a favorite pasta dish, you can buy gluten-free pasta made from rice or buckwheat flour.
Many sauces and gravies are thickened with wheat flour, experiment with substitutions like cornstarch, arrowroot flour, or tapioca starch in 1/2 the amount called for in your recipe.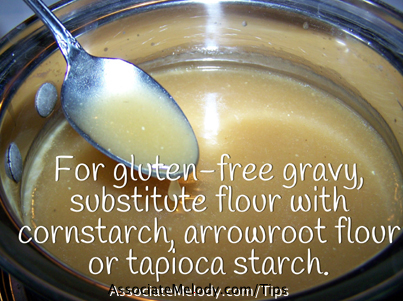 Sweet Treats
Some quick ideas for sweet treats that are gluten-free include meringue cookies, homemade fudge, fruit and yogurt, cakes, brownies and cookies made with alternative flours. There are gluten-free cake and brownie recipes that actually use pureed, cooked beans such as garbanzos or black beans.
Quick Tips For Going Gluten-free
1. Any foods that are battered or breaded should be avoided. You may not realize that pan-sauteed or grilled chicken or fish may have been coated with wheat flour.
2. Wheat and its variations can be listed in ingredient lists as kamut, cake flour, matzo flour, bran, graham flour, durum, semolina, and farina. Starch is often unidentified, binders, fillers, excipients, extenders, and malt are other ingredients to avoid.
3. Are steel-cut and rolled oats gluten-free?  Oats do not naturally contain gluten however, store-bought oats often contain wheat due to the way they are processed or handled. Make sure to look for oats labeled "gluten-free."
4. Some grains that contain gluten that you may not think of are rye and barley.
Which Watkins Products Are Gluten-Free?
Watkins recognizes that for people who suffer from an intolerance to gluten, in particular people with Celiac Disease, label reading becomes an integral part of their grocery shopping – so we've made it easier for you to shop for Watkins!
Products that do not contain these grains or derivatives of these grains are naturally gluten-free. Most Watkins products, including natural personal care, gourmet spices, extracts, black pepper, and grinders are free of these grains, therefore are naturally gluten-free.
The following products are free of wheat, rye, barley and cross-bred hybrids of these grains:
Watkins Gourmet Grinders
Watkins Organic Herbs, Spices and Blends
Watkins Pure Ground Cinnamon
Watkins Pure Ground Black Pepper
Watkins Gourmet Herbs & Spices
Watkins Pure Extracts
Watkins Gourmet Extracts & Flavorings
Watkins Original Gourmet Baking Vanilla
Watkins Cooking Spray
Watkins Vanilla Extracts
Watkins Organic Chili Seasoning Mix, Fajita Seasoning Mix, and Taco Seasoning Mixes
Watkins Natural Food Coloring, Red, Yellow, Green and Blue
Watkins Decorating Sprinkles
Watkins Decorating Sugars
One of the questions I often get asked is, "Is Watkins Vanilla extract gluten-free?" Yes!
Are Watkins personal and body care products gluten-free? Yes!
Every effort is made to ensure this list is accurate and up to date. However, to be safe, you should check the ingredient list for each product in my Watkins shop, in particular, those with multiple ingredients.


With Watkins your satisfaction is always guaranteed or your money back!
Request your free Watkins Catalog
Did you find this page helpful? If so please feel free to add it to your browser favorites and share it with your friends.