8 Meals Made With Leftover Chicken and Turkey
Chicken and turkey are healthy protein choices that are versatile and tasty. There are so many ways you can prepare poultry. Bake it, fry it, grill it, stew it, slow cook it and put it into all sorts of dishes. Because this meat is mild flavored it pairs well with just about any type of seasoning or flavoring you'd like, from spicy to savory to sweet.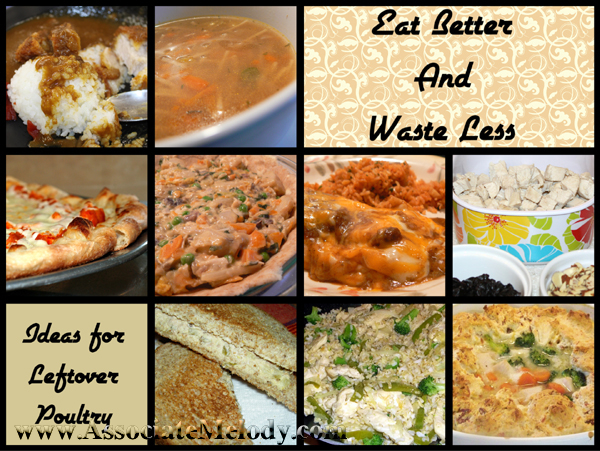 Leftover poultry can easily be transformed into a whole new dish. It works best if it is baked or broiled and minimally seasoned, but you can find recipes that work well with almost any way that it is originally cooked. Here are eight meal ideas for leftover chicken and turkey that are easy but anything but boring.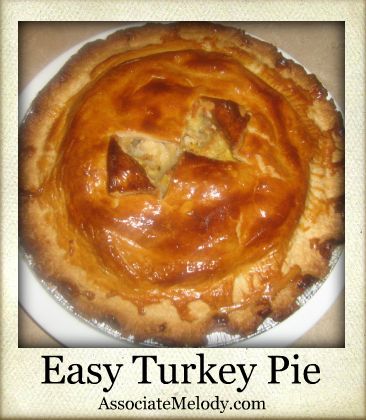 Leftover Turkey or Chicken Pie
Turkey pie is one of my favorite ways to use up leftover turkey, and it's very easy. Of coarse you can make this recipe with leftover chicken if that's what you have on hand. You probably have most of the ingredients you'll need on hand! If you are short on meat you can vary the  ingredients by adding cooked potatoes, carrots, celery and onion.
Chicken Salad
Chicken and turkey salads are great for lunch at home or to pack for school or work. You can throw this recipe together in no time with just a few ingredients. It's also easy to customize. Just add in some diced apples or grapes to add sweetness and crunch, some chopped pecans for protein and flavor, or a little buffalo sauce to add heat. Serve on bread, buns or crackers.
Avocado Chicken Sandwich
Ingredients:
1/2 avocado
1 tbsp sour cream
1 tsp lemon juice
4 slices of your favorite bread or two buns
2 tbsp mayonnaise
1/2 cup chopped cooked chicken (leftover roast chicken or BBQ chicken)
Put the flesh of the avocado in a small bowl together with the lemon juice and sour cream and mash with a fork.
Spread one slice of bread on one side with mayonnaise and the other slice with the avocado mixture. Put the chopped chicken on top of the slice with the mayonnaise and top with the bread covered with the avocado.
The whole family will enjoy this colorful and delicious sandwich.
Turkey Subs
Turkey is on the menu at every sub shop, but why go out when you can make your own? Just slice up some turkey, pile it on a sub roll, and add your favorite toppings. You can keep it simple with lettuce, tomato and mayonnaise, dress it up with some mushrooms and Swiss cheese, or add ranch dressing and bell pepper strips for a little kick.
Chicken Noodle Soup
Chicken noodle soup is the ultimate comfort food, and it's even more wonderful when it's homemade. This Easy Homemade Chicken Noodle Soup With Vegetables recipe is one recipe that you can adjust as needed or even make up as you go along. Finely diced chicken, chicken broth and noodles are the key ingredients.
Carrots and celery are some of the most popular vegetable choices for homemade chicken soup, but you can use any veggies you like as long as they are finely chopped. Just simmer the vegetables in the broth for about 10 minutes, then add the chicken and uncooked noodles and simmer for 5 more minutes. Here's another easy recipe for chicken soup.
Chicken Fettuccine Alfredo
This recipe is super easy, and tastes delicious!
1 1/2 tsp/7.5 mL Watkins Original Grapeseed Oil
1/2 cup/125 mL red bell pepper, diced
1 cup cup/250 mL sliced mushrooms
3/4 to 1 tsp/4 to 5 mL Watkins Garlic Liquid Spice
1 cup heavy cream
1/2 cup/125 mL grated Parmesan cheese
1/4 tsp/2.5 mL Watkins Black Pepper
2 cooked chicken breasts or equivalent, diced
1 lb/140 g fettuccini or other noodles
Instructions: Heat the grapeseed oil and liquid spice in a large non-stick skillet and add the mushrooms and saute until nearly done, add bell peppers and cook a few more minutes. Add cream, heat until nearly boiling. Turn off heat, stir in parmesan cheese, stirring until melted. Stir in chicken. Serve over cooked pasta with more grated parmesan cheese if desired.
Or if you prefer, you can simply cook up some pasta and top with chopped chicken and store-bought Alfredo sauce.
Turkey Casserole
Casserole is something of a cliché, but it's a great dish for using all sorts of leftovers. If you're feeling adventurous, you can throw together whatever leftovers you have, add some shredded cheese and create your own casserole recipe.
Chicken Tacos
Tacos and fajitas are an excellent dish for giving leftover meat a makeover. Use shredded left over poultry or try this recipe!
Cumin Rubbed Shredded Chicken:
1 lb/450 g boneless skinless chicken breast or thighs
1 tsp/5 mL Watkins Cumin
1/2 tsp/2.5 mL Watkins Chili Powder
1/2 tsp/2.5 mL Watkins Sea Salt, ground
1/4 tsp/1 mL Watkins Paprika
2 tbsp/30 mL Watkins Original Grapeseed Oil
Salsa:
1 (16 oz/454 g) can black beans, drained and rinsed
1 large tomato, diced
1 red bell pepper, diced
1 Anaheim or poblano pepper, diced
1/3 cup/80 mL red onion, finely chopped
4 green onions, chopped
1 tbsp/15 mL Watkins Salsa & Sour Cream Snack & Dip Seasoning
1 tbsp/15 mL cilantro
1 tsp/5 mL Watkins Cumin
1 tsp/5 mL Watkins Garlic Powder
1 tbsp/15 mL Watkins Garlic and Parsley Grapeseed Oil
Shredded lettuce for garnish.
Instructions Chicken: Rub chicken breast with spices. In a large skillet sauté chicken in grapeseed oil. Cook over medium high heat, turning once, for 10 to 12 minutes or until chicken is no longer pink. Shred chicken for tacos, enchiladas or fajitas.
Salsa: Combine all ingredients and serve on top of tacos with lettuce.
Turkey Curry
If you like curried dishes, you'll love this easy turkey curry. It's made with ingredients you probably have on hand. Cook up some rice and steam some vegetables for a quick and easy dinner for the family or when unexpected guests drop by.
Turkey Curry ingredients:
3 cups leftover cooked turkey, diced
1-2 tbsp Watkins curry (depending on your taste)
1 large onion, chopped
1 can crushed pineapple, undrained
2 tbsp flour
1/4 tsp Watkins ground ginger
2 cups water
2 teaspoons Watkins chicken soup and gravy base
1 tbsp Watkins Grapeseed oil (original or garlic and parsley)
Instructions:
Heat the oil in a large non-stick skillet and add the onions. Saute until the onions are softened. Then add the curry and ginger and cook for a minute. Then add the flour, water, chicken soup base and pineapple. Bring to a boil and simmer uncovered for about 5 minutes. Mix in the turkey and cook for about 10 minutes until the turkey is heated through. Serve immediately with rice.
You'll also find more recipes for left over turkey here. Add these recipes to your recipe box, or use them as a starting point to come up with your own unique dishes. You'll never grimace at the thought of leftover poultry again!
No Comments Yet.