Autumn Beef Stew
When the weather gets cooler we tend to eat more stews and this autumn beef stew made with fresh pumpkin is perfect for fall. Pumpkins are for more than jack-o-lanterns. This in season vegetable (or is it a fruit?) is plentiful in stores and farmers markets now. While you can find canned pumpkin year round this stew is best made with fresh pumpkin. Extra pumpkin can be frozen and used later.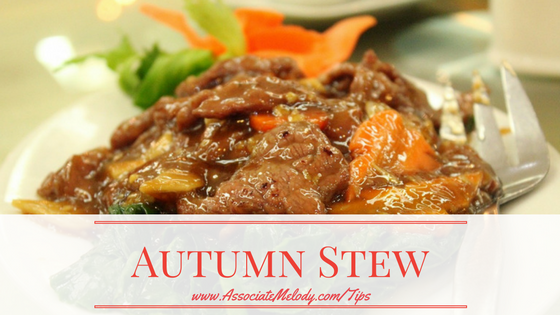 Often we associate pumpkin with baked goods like pie, muffins, and cakes or even pumpkin spice lattes but it's also a healthy, delicious addition to savory main courses like this stew.
Autumn Beef Stew
Ingredients
1/2 cup all-purpose flour
1/2 teaspoon Watkins sea salt
1 teaspoon Watkins pepper, divided
2 pounds beef stew meat, cut into 1-inch cubes
2 tablespoons Watkins grapeseed oil
2 tablespoons butter
1 large onion, chopped
2 to 3 garlic cloves, minced
3 medium carrots, thinly sliced
2 celery ribs, thinly sliced
4 cups water
1 to 2 Watkins bay leaves
2 teaspoons Watkins beef soup base
1 teaspoon Watkins dried thyme
3 cups cubed peeled pumpkin
Directions
Place the flour, salt and pepper in a large zip-top bag and shake it up to mix the flour and seasoning.
Add a few pieces of the beef into the plastic bag with flour and seasoning. Shake the bag to coat each piece, repeat this until all meat is coated.
Place the meat into a Dutch oven that has melted butter and oil in it and cook it until it is browned.
Add the garlic and onion to the meat. Cook and stir this for 2 to 3 minutes.
Next, add the carrots, celery, water, bay leaves, bouillon, thyme and remaining pepper. Bring these ingredients to a boil. Reduce the heat, cover the pan and then simmer the meat mixture for at least 1 ¼ hours.
After the time has passed, stir in the cubed pumpkin. Bring the mixture back to a boil. Reduce the heat once again and cover the pan. Simmer the entire mixture for 20-25 minutes or until meat and pumpkin are tender.
Remove the bay leaves and discard.
https://www.associatemelody.com/tips/autumn-stew/
Copyright © Melody Thacker - All Rights Reserved
Serve this stew with a salad and maybe some nice crusty bread for a delicious, comforting autumn dinner.
Are you a pumpkin fan? Tell us more!
No Comments Yet.