Healthy Breakfast Wrap
Wraps are so handy for quick and easy meals, this recipe makes a healthy breakfast wrap. Filled with cottage cheese and tropical fruit it's sure to get your day off to a good start. Feel free to substitute your favorite in season fruit or berries.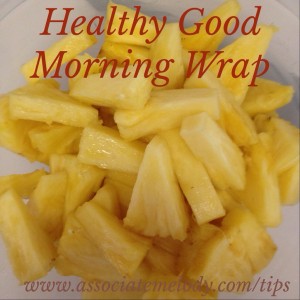 4 whole wheat flour tortillas – 10 inches
2 cups small curd cottage cheese
1 teaspoon Watkins Vanilla
2 cups fresh, chopped pineapple
4 teaspoons raw honey (or to taste)
4 bananas, sliced lengthwise
Optional: 1/4 cup finely chopped nuts or seeds or unsweetened coconut of your choice
Put the tortillas in a microwave oven and heat them on high for about 15 seconds until they are warm and pliable. Or wrap them in foil and heat them in the oven while you prepare the filling.
Stir the vanilla into the cottage cheese, spread each tortilla with 1 cup each of cottage cheese mixture and pineapple. Drizzle with honey and add the sliced banana. Sprinkle with nuts, seeds or coconut if desired.
Fold the tortilla to enclose the filling and roll into a tightly wrapped cylinder. Cut the wraps in half across the middle and serve them. Each full tortilla is one serving. (Serves 4)
Adding vanilla to the cottage cheese enhances the flavor and means you'll need to add less sweetener.  Coconut pairs well with pineapple and banana. We also like adding hemp hearts. If you enjoy a little crunch and added nutrition sprinkle in some chopped nuts of your choice. Pecan are my favorite!
No Comments Yet.