Spicy Roasted Pumpkin Seeds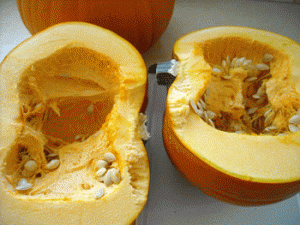 It's pumpkin season, gardeners and farmers are harvesting their crops now so fresh pumpkins are available at farmer's markets and grocery stores. If you are using fresh pumpkin to bake something or carving a jack-o-lanterns you'll have nutritious seeds to roast. Roasted pumpkin seeds make a delicious, healthy snack. Add some spices like crushed red peppers, garlic and black pepper and you'll take them to a whole new level!
When you scoop out the pumpkin seeds, separate them from the goopy, stringy membrane and place them in a colander. I know it's kind of messy but it's worth it. Rinse the seeds well and leave them in the colander to drain.  You can also season them with a bit of sea salt and roast them or feel free to modify the following recipe to suit your own taste. Enjoy!
Spicy Roasted Pumpkin Seeds
Ingredients
1 1/3 cup pumpkin seeds, cleaned and rinsed
1 tsp Watkins sea salt
1 tsp Watkins crushed red pepper
1/2 tsp Watkins black pepper
2 tsp Watkins garlic powder
Watkins cooking spray
Directions
Preheat the oven to 350 degrees F.
In a bowl, combine the pumpkin seeds with the spices.
Spray a baking sheet with cooking spray, spread the seasoned pumpkin seeds on the sheet and bake for approximately 15 minutes.
The seeds should be slightly golden brown and crispy. Remove from the oven and let them cool completely.
https://www.associatemelody.com/tips/spicy-roasted-pumpkin-seeds/
Copyright © Melody Thacker - All Rights Reserved
Did you know hot peppers not only taste good, they may have health benefits?
No Comments Yet.