Watkins Gourmet Food Products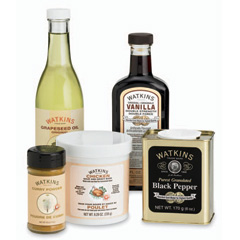 If you haven't yet, you are about to discover for yourself why so many families have trusted nothing but Watkins food products for their cooking and baking needs for over 140 years. Watkins has something for every taste, cooking and life style. Discerning gourmet cooks who want to use only the best quality ingregients love our gourmet foods and know their meals will always taste great with Watkins. Busy and inexperienced cooks love how our quick and easy to prepare mixes and seasoning blends simplify their life. Cooks who are concerned about living healthier love our natural and organic foods too. You can shop for your Watkins gourmet foods here. or request your free Watkins full product catalog.
Watkins Spices
You won't find any sticks, twigs, chaff or fillers in our spices. Watkins is famous for the very best quality spices, I bet you may have already heard of our black pepper and cinnamon but we also offer you the most commonly used culinary herbs and spices as well. Learn more about these amazing spices:
Watkins Seasonings
Watkins seasoning blends are a busy cook's dream come true. Our expertly blended spices will turn anyone, no matter what your cooking skills are, into a gourmet chef by simply following the recipe on the bottle! One of my customer's favorites is Watkins potato salad seasoning. Once you've tried it, you will never make potato salad again without it.
Watkins Organic Foods
If you are looking for organic foods you'll want to cook and bake with Watkins organic herbs and spices, organic vanillaand other extracts.
Watkins Foods For Your Pantry
Besides spices we offer you a wide variety of ingredients for you pantry to save you time and money, enjoy the conventience of cooking with Watkins soup and gravy mixes. Bake up a new flavor sensation with Watkins extracts and flavorings, they are great for adding flavor to beverages and savory dishes too.
Watkins Foods For a Healthier Lifestyle
Discover Watkins products like our grapeseed oils and our low/no sodium foods which contribute to a healthier heart.
Watkins Foods For The Frugal Gourmet
Watkins food are gourmet quality but using them will actually save you money! When you use a cheaper, low quality brand you need to use more to get the flavor you want. You can use less of Watkins spices, seasonings, flavors etc and get more flavor which gives you better value for your money. When you buy Watkins food, it comes fresh from our factory right to you door. This means it hasn't been sitting in a warehouse or store so there is no loss of quality. I think you'll find our prices are fair too! Shop and fill your pantry with the goodness of Watkins gourmet foods or feel free to request your free Watkins full product catalog here. To get the best value subscribe below for a once a month email regarding our specials and sale prices.


Note: Your customer account # and State/Province is optional, entering them will simply enable us to provide you with better service. We care about and respect your privacy.

Don't forget to save this page in your favorites or bookmarks so you can find us again.

Watkins products are featured in these and other popular gourmet food magazines!