Homemade Hot Chocolate

One of my daughters recently asked me how to make homemade hot chocolate with cocoa powder, she said she remembered that's how I always made it for her and her siblings when they were at home. We reminisced as I shared how easy it is to make and thought you might like to know too. You have control over the ingredients when you make it yourself, adjust the sugar content and use skim milk if you're trying to consume fewer calories or fat.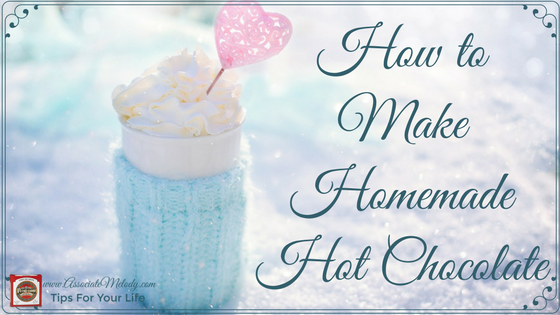 When I was growing up there was no such thing as an instant hot chocolate mix or if there was, my Mom never bought it. A mug of hot cocoa was a rare, special treat on a cold winter day or evening. While my Mom heated a pan of milk on the stove we would sit around the kitchen table preparing our own cocoa mug. We'd mix together in a mug one spoonful of cocoa, sugar and a splash of milk (or heavy cream which is even better). The idea was to make a chocolate paste that would dissolve easily and smoothly in the hot milk. Then, she'd fill the mug with hot milk, we'd stir well, and enjoy. That's only one way to make hot chocolate from scratch, here's another recipe for you.
How to Make Homemade Hot Chocolate with Cocoa Powder
Ingredients:
1/4 cup/60mL Baking Cocoa
1/2 cup/125mL sugar or less
1/3 cup/80mL hot water
4 cups/1 litre milk, low fat or whole
3/4 tsp/4mL Watkins Baking Vanilla
Optional, Whipped cream or marshmallows for topping
You can get fancy with these gourmet flavor variations:
Add 1/2 teaspoon Watkins coffee, cherry, hazelnut, coconut, or orange extract.
Substitute 3/4 teaspoon Watkins peppermint or almond extract for the vanilla,
Add 1 teaspoon Watkins ground cinnamon
Directions: Combine the cocoa and sugar in a medium-sized, heavy saucepan; stir in the hot water. Bring the cocoa mixture to a boil over medium heat, stirring constantly; simmer and stir 2 minutes. Add milk; stir constantly while heating. DO NOT BOIL. Remove from heat; add vanilla and other flavors if desired. Beat with rotary beater, stick or immersion blender until the hot chocolate is foamy. Makes about six 6-ounce servings.
Top with whipped cream or marshmallows if desired. A printable version of the recipe below.
I use Watkins extracts and spices every day. I'm also an Independent Watkins Consultant which means if you purchase through my link I'll earn a commission. You'll also enjoy the additional services I provide at no extra cost. Thank you for your support, whether you choose to read, share, or buy, I appreciate you!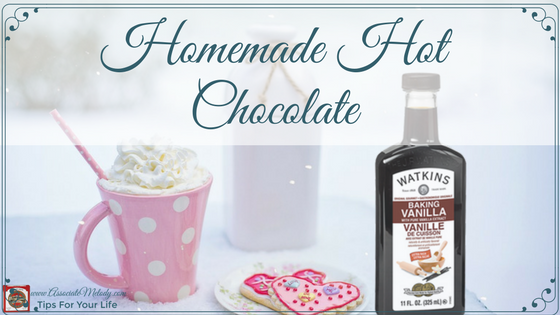 Ingredients
1/4 cup/60mL Baking Cocoa
1/2 cup/125mL sugar
1/3 cup/80mL hot water
4 cups/1 litre milk
3/4 tsp/4mL Watkins Baking Vanilla
Directions
Combine cocoa and sugar in medium saucepan; stir in hot water.
Bring to a boil over medium heat, stirring constantly; boil and stir 2 minutes.
Add milk; stir and heat. DO NOT BOIL.
Remove from heat; add vanilla. Beat with rotary beater until foamy.
Optional variations:
Add 1/2 teaspoon Watkins coffee, cherry, hazelnut, coconut, or orange extract.
Substitute 3/4 teaspoon Watkins peppermint or almond extract for the vanilla,
Add 1 teaspoon Watkins ground cinnamon
https://www.associatemelody.com/tips/homemade-hot-chocolate/
Copyright © Melody Thacker - All Rights Reserved