Wild Salmon and Spinach Gratin

This wild salmon and spinach gratin was a big dinner hit for our family. I'm not a huge fish fan, I like it, just not quite as much as other meats and I know it's healthy for us. My husband loves fish, especially salmon and he's always asking me to cook it more often!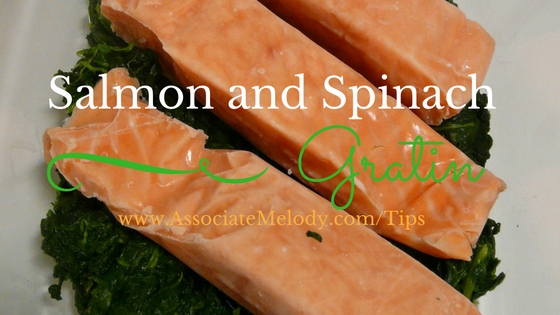 Now that I've found and perfected this recipe we'll be eating salmon more often. This can be prepared several or up to 24 hours ahead, covered and stored in the refrigerator until it's time to put it in the oven.
Salmon and Spinach Gratin
Ingredients
1 lb salmon fillets, patted dried
½ teaspoon Watkins chicken soup and gravy base
1 teaspoon corn starch
2 cups light cream (half & half, creamo, or coffee cream)
3 tablespoons pine nuts
10 oz package frozen spinach, thawed
Butter
Watkins sea salt or garlic sea salt
Watkins black pepper or lemon pepper
Directions
Preheat oven to 400ºF.
Grease an ovenproof dish with butter and line with the thawed spinach.
Arrange the salmon pieces on top.
In a small bowl, whisk together the cream, Watkins chicken soup base and cornstarch for the sauce. Season with salt and pepper to taste.
Pour the sauce over the salmon fillets and spinach. Top with the pine nuts and bake in the oven for about 30 minutes.
https://www.associatemelody.com/tips/salmon-spinach-gratin/
Copyright © Melody Thacker - All Rights Reserved
This salmon and spinach gratin is lovely served with steamed baby carrots and new potatoes. As usual, I didn't remember to take a pretty picture to share with you.
Feel free to substitute fresh or frozen salmon and/or spinach depending on the season and what you have on hand. I've made it with both and the dish turned out great. I've also used salmon steaks, which is fine if you don't mind picking out the bones when you eat it. You'll find my favorite spices and pantry essentials here.
Wild you should choose wild salmon.
When buying salmon look for wild pacific salmon, most farmed salmon is atlantic salmon. Why you may ask? Well allow me to jump on my soapbox for a few seconds. Farmed salmon are raised in crowded pens in the ocean and are fed an unnatural diet including antibiotics to control diseases. The meat does not have the same nutritional content, farmed is higher in fat and may contain toxins.  Fish farming is energy-intensive, not environmentally friendly and it endangers our wild salmon. I encourage you to do your own research and decide what you feel is the best choice.
No Comments Yet.